10 Tips for Optimizing Holiday E-commerce Sales - BFO
November 24, 2021
5 Minute Read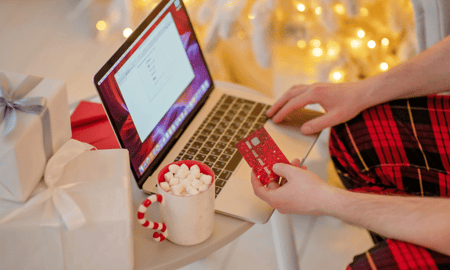 Traditionally, Americans are known for impulse shopping during holiday seasons. Christmas shopping begins as early as November or immediately after Thanksgiving. And last year alone, holiday online retail sales in the U.S. amounted to approximately $186 billion, with the figure expected to surge to around $207 billion in 2021.
So there couldn't be a better time to optimize your holiday e-commerce sales than now. For that reason, we've compiled our top tips on how to realize just that. Ready? Let's go!
Leverage Customer Insights
Knowing your customers and what they're searching for is the first step to optimizing your e-commerce sales this holiday season. Your next assignment is to make the sales process as effortless as possible. For instance, if you're selling an elf costume, be sure to land the end-user on the page where they can directly buy that item. Holiday shopping is stressful enough as is, streamlining the process for your customers will leave them full of good will towards your brand.
Read. Re-read. Set Reminders
The holiday season is usually a beehive of activities, and it's not uncommon to forget or overlook critical events or programs. The only way to break this habit is by creating event-specific calendars and setting reminders. During the holiday season, your marketing calendar is your best friend. For example, if you have a promo or flash sale lined up, you should mark them in your marketing calendar and set reminders for QA the week before and the day before launch, ensuring that everything is ready to go. Luck is what happens when preparation meets opportunity after all.
Break through the Noise with Ad Copy
Let's face it; competition has never been stiffer in the e-commerce space, especially around the holiday season. So what matters the most is how you stand out from the crowd with your advertising strategy. Construct your ad copy based on what appeals to your audience and best addresses their needs. How is your product solving their pain points? Model language around how your audience speaks to help build a connection with them. If you are unsure about what speaks to your audience, a simple way to find out is through A/B testing which allows you to test different elements against each other. Instead of just running the typical 50% promo, you can test it against buy-one-get-one-free (BOGO) to see which one performs better. You can use A/B testing for other elements too like your CTA or feature image. Other techniques to break the noise include offering free shipping, using a CTA with reward-based language, maximizing emotional triggers, etc.
Leverage Ad Extensions
Ad extensions like sitelinks, structured snippets, callouts, call extensions, etc., are an absolutely cost-free addition to your ad campaign, and can be extremely beneficial in your efforts to maximize revenueLet's use call extensions as an example; here, you want to include an option to your ad copy for customers to call your store. This enables you to derive valuable insights from the call data, e.g., how long were they on the phone? What were they inquiring about? Did they leave the call satisfied? This data can help you refine your ads for better performance.
Use Audience Targeting & Bidding
Audience targeting & bidding is, hands down, one of the most straightforward ways to maximize your e-commerce holiday sales. But surprisingly, most stores never leverage this technique. That's a worrying trend because Google has already created most of the data you need to target your audience and bid – all you have to do is click a little box to add them.
A perfect example is demographics; Google provides the age, gender, economic status, marital status, etc., of your target audience. You can easily increase or lower your bids based on this information. For example, if you're selling a $700 product, but you discover your target doesn't have a discretionary income of that range, you can lower your bids.
Audit and Tune Landing Pages
Here's a hard-hitting fact: a page on your site does not equal a landing page. A landing page is a standalone web page that is created for a specific purpose. Most stores make the mistake of linking an ad on their site's main product page instead of a custom landing page designed to encourage users to convert. You can create different landing pages for different audiences that appeal to their unique pain points. The only way to maximize your sales this holiday season and beyond is by fine-tuning your path-to-purchase.
For starters, your targeted keywords should be prevalent in your ad copy as well as the landing page. This will help increase the quality score of your ads which can increase performance. It's like telling the site visitor that we know what you're looking for, and we have the solution for you. Also, note that less usually equals more for landing pages; don't bore your visitors with stories of how you struggled to source the product. Instead, simply tell them what value they're getting for their money and wrap it up! Remember, you are trying to solve your customer's pain points with these ads. This is also an excellent time to bring in the A/B testing we mentioned earlier to fine tune your landing pages based on your audience's preferences.
Improve Your Bidding Efficiency
Bidding is the gateway to e-commerce sales maximization, so you want to give it your A-game. For example, you can adjust your bidding according to the type of device your audience uses so that you pay more attention to mobile and tablet (they tend to have the most users) than you do desktop. You can also optimize by age, gender, income, parental status, location, time of the day, or day of the week. Pay attention to what the data from your targeted audiences and previous buyers is telling you and use it to your advantage.
Test Google Shopping
If you have a products feed (which you should), here's your chance to test it against the breathtaking Google shopping features. For example, Google automatically generates ad copy for you based on how you describe your products on the feeds. You can also set your goals to maximize conversions, CPA, or ROI by simply creating a smart shopping campaign.
Step Outside of Search
There's no denying it; Google Ads is a fantastic platform for most holiday e-commerce products. But have you tried stepping out of the "search" into other related platforms like Youtube, Google Display, or Discovery? If not, here's a sign that you should. Take Google Display, for example; it's super straightforward to use, as you only need to add two images, one logo, an ad text copy, and your target audience.
If you prefer Youtube instead, linking your videos to your Google ads is also exceptionally effortless. By clicking the box marked "Link" and connecting to your page, you're all set up to run your existing Youtube videos as pre-roll ads. It's as simple as that!
Get Your Ads in Early
Did you know that it takes up to five business days to get your ads approved? And you already know what time it is; the more people who add ads to the UI around holidays, the longer it takes for approval. Here are a few tips to help you skip the line and optimize your holiday e-commerce sales:
Finalize your promotions and copy ASAP
Create 2-3 ads per ad group to facilitate A/B testing
Update your page/URL before submitting the ads in the UI
If your ads get disapproved, wait 48 hours, then submit a review request via Google Support
Still need some help with your holiday e-commerce strategy?
Contact BFO today to discover how we can help you get ahead during the most wonderful time of the year. You will not only boost sales this holiday season but also have satisfied customers who will stick with you through to the New Year. To learn more about our top tips for optimizing holiday e-commerce sales, check out our on-demand webinar or contact us to see how we can help you get the most out of this upcoming holiday season.
Photo by Paul Felberbauer on Unsplash