Considerations When Selecting Digital Marketing Agency
August 07, 2017
6 Minute Read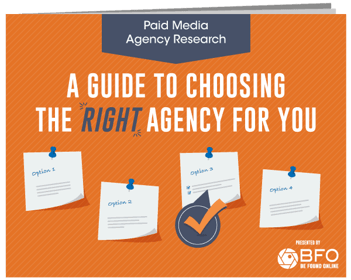 Several clear and distinct factors make the difference between digital marketing success – and failure. With thousands of digital marketing agencies in the US according to Redbooks.com, choosing the right one to meet your goals and objectives is vital. But how can you know? Many prospective clients have asked me similar questions. Two common questions I have heard from brands trying to make this important selection are:
With so many digital marketing agencies to choose from, how can you be sure to choose the right agency?

How can you be confident that an agency will deliver based on your expectations?
[ctt template="1″ link="62gU5″ via="no" ]With so many digital marketing agencies to choose from, how can you be sure to choose the right agency? #BFO[/ctt]

These questions are valid. In my more than 15 years of digital marketing sales and implementation experience, I have heard these questions and similar ones many times. Some prospects have even said:

"All of you digital marketing agencies are the same."

There is some truth in that statement. The sales model, the services and fee structure of many digital marketing agencies is often the same or similar. Yet, even though the business revolves around marketing technologies, ultimately, like every business, it comes down to people. This includes their character, aptitude (aka results) and perhaps just as importantly their approach.

This article identifies 4 key factors a brand can use to evaluate a digital marketing agency. These factors are not ordered by importance. In my years of experience, each one plays a big role in the success or failure of a brand's digital marketing efforts.
1. Solutions vs. Products
No single product can achieve your digital marketing goals. According to Google, the average consumer (B2B or B2C) requires 10.2 touch points with a brand before making the decision to purchase. This means every digital marketing effort requires multiple products, tools and platforms.
An agency partner must understand your customer's path to purchase. Even more, they must understand your business goals. Knowing these two elements ensures they can work with you to identify gaps that may interrupt the buying process. Should a brand need a single product or platform to fill a gap – and the staff to maintain and support it, they should still look for an agency that will seek to understand all aspects of the digital marketing effort rather than the one that seeks to close a fast sale.
The best digital marketing agencies are solutions providers. This means they need to understand the full suite of services a brand needs for success, even if the agency doesn't offer one of the products, platforms, or services. This is one important facet of the relationship every brand should consider. Does the agency seek to understand my wider business, or are they focused only on the products and services they sell?
Solution providers appreciate the need to understand the entire picture. For example, through the sales process, my approach involves:
Understanding your primary goals

Getting to the root barriers of your success

Developing a complete solution to overcome both known and anticipated obstacles

Creating a roadmap to achieve your goals
2. Strategy & Process
"Lack of strategy" is the number one reason advertisers tell me they are seeking a new agency partner. Having reviewed a lot of digital marketing proposals, I've found most focus on the agency and its product and less on the client's goals, objectives and needs. Frankly, digital marketing is still in its infancy and agencies are still developing solutions-focused approaches.

When looking for an agency partner, look for one that can share a clear and distinct process to develop strategy right from the start. Don't hesitate to ask the agency about their sales approach and, if hired, their management process. If they cannot easily provide you with an answer, it may be worth considering if your digital marketing efforts may also lack strategy and process.

For example, at BFO we follow a clear selling strategy and process. The sales method features the process of Initiate, Educate, Transfer Ownership, Justification, and Decision. We then follow it with the onboarding and management process of Organize, Prioritize, Plan, Execute, Analyze and Respond.

[ctt template="1″ link="d3g0a" via="no" ]"Lack of strategy" is the number one reason advertisers seek a new agency partner. #digitalmarketing[/ctt]
3. Transparency & Trust
Most people know the decision they are going to make within seconds of being introduced to a solution, according to Malcolm Gladwell in the book Blink: The Power of Thinking Without Thinking. This means you probably know your decision after the first meeting with a potential agency partner. Trust your gut and choose an agency in which you feel comfortable and confident.
To understand your feeling, a good question to ask is: Was the digital marketing agency you met with open, honest, and build trust from the very first interaction?
One clear sign of an agency's level of openness and trustworthiness is their ability to say 'No' right from the start. Did they have open and honest conversation with you on the first call? Did you get fast 'Yesses' or thoughtful replies with what I lovingly call "the kind truth" (aka No)? The agency that takes time to consider answers, says yes with confidence and no with equal confidence will be more likely to set realistic expectations and, most importantly, deliver them.
4. People Matter
Your customers are people. So are your employees and coworkers. So is your agency partner.
Technology makes life move faster and in some ways easier, but in the end, people still matter. Consider when evaluating an agency, do they have a culture focused on people – both theirs, yours and also your customers? Do they understand all this technology is here to serve people and make their lives easier?
Another "people" factor to consider: What is the agency's approach to their people?
The answer to this question can impact the success of your digital marketing efforts. A lot of turnover can lead to discontinuity or re-educating new staff on campaigns, strategies and goals. Here are some questions you can ask to evaluate an agency and their team:
How long have they been with the agency?

What is their background?

How do they feel about your brand?
A digital marketing agency with a high employee retention rate will often deliver real passion and experience. And this produces better results.

[ctt template="1″ link="Ncp13″ via="no" ]A #digitalmarketing agency with a high employee retention rate will deliver passion & results. #BFO[/ctt]

BFO for example believes and lives an employee-centric approach. We've found happy employees are more energetic, excited, and mentally prepared to drive results for all clients, regardless of the challenges, obstacles, or difficulties that will arise. In our experience, this produces the results you want and deserve. We've also observed "sweatshop" agencies often have employees and teams with little-vested interest in ensuring you reach your goals.
How to Choose Success
Are you in the market for a new digital marketing agency? If so, apply each of these 4 key factors in your decision-making process. When you do, you will have the confidence that you are making the right decision. Most importantly, you'll know you're on the path to digital marketing success!
Want to learn more about BFO's digital marketing solutions? Start a conversation.
Looking to find the right paid media agency to help your business? Check out our ebook!