Digital Burnout & How to Combat it In Your Marketing Strategy
June 22, 2023
7 Minute Read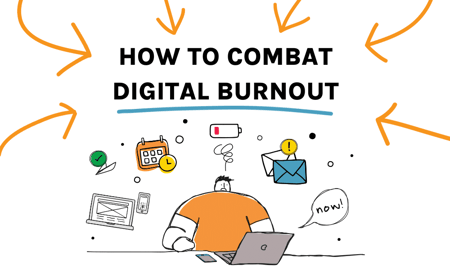 Though all businesses are different, there's one thing many have experienced over the course of the past three years: digital burnout. Comments regarding this disrupting trend
have doubled
since the beginning of the pandemic, and teams everywhere have become more familiar with this trending topic.
New to digital burnout? This type of burnout occurs due to the overuse of digital devices. It can impact one's emotional, physical, and mental health should a user have prolonged exposure to screens (as many of us often do). Digital burnout can lead to symptoms such as fatigue, insomnia, anxiety, depression, lack of concentration, and reduced productivity. In other words: yikes.
The bad news? Digital burnout doesn't pick on one industry in particular — it's everywhere. The good news? There are a handful of ways you can combat these feelings inside your marketing strategy. Though there are a few common ways you might have heard about before (i.e., taking breaks, putting screen limits on your devices, and practicing self-care), we're here to dig deeper into combating digital burnout.
Because if we're being honest, a bubble bath isn't exactly going to wash away our problems here (though we don't mind using it as a way to unwind after work). If you're going to remove burnout from your calendar entirely, you need to look at your marketing strategy both internally and externally. This way, you can ensure your employees and audience stick around for the long haul.
Here's how you can use your marketing strategy to combat digital burnout.
Internally
It's normal to want to focus on business growth, sales, and acquiring new customers. But brands that focus solely on climbing the ladder often forget what's actually going to help them reach the top — their team. Even the best marketing strategies will fall flat if the employees behind them are experiencing digital burnout.
So take a look at our best tips on ensuring your team members aren't falling victim to the negative impacts of their devices.
Ask yourself: Could this be an email?
Ever sat through a meeting that could have been a quick email? Us too. And it not only takes time out of your busy schedule but can contribute to digital burnout. For example, many employees experienced Zoom fatigue throughout 2020 when in-person chats became Zoom meetings. What was once a 5-minute conversation when someone stopped by your desk turned into a 30+ minute meeting in front of your screen.
So if you're hoping to help your team members prevent digital burnout, look to your internal operations first. A solid marketing strategy starts with those who create it — and your employees won't bring their best work if they're tired, anxious, and lacking motivation.
We recommend using tools like Loom and Vimeo to create screen recordings. This way, you can easily send information to team members without making them panic-change out of their PJs when you ask them to hop on a quick Zoom.
Prioritize a question that often went unasked throughout the pandemic: Could this be an email? Your employees will appreciate your flexibility when it comes to collaboration. Avoid putting your team in front of a screen when they don't need to be, so you can (politely) shove digital burnout out of your office door. Here at BFO, we try to minimize internal meetings on Fridays in order to allow the team to have time to work on their responsibilities and maintain a balance.
Check your toolbox
If you're a fan of the latest tech, you're no stranger to collaboration and content management platforms. You might even use some of them (like Airtable, Hubspot, or Trello) to create your actual marketing strategy. These tools are often disguised as productivity champions, but if you've ever heard the phrase, "It is possible to have too much of a good thing," the same applies here.
Those who spend their days jumping between Asana, Slack, Zoom, Voxer, etc., are much more likely to fall victim to digital burnout. It's tough for team members not to feel as though they need to be "on" 24/7. Work/life balance takes a backseat when you overload your employees with digital tools.
Yes, platforms such as Slack and Zoom make it easier to collaborate (especially for those working remotely), but to prevent digital burnout, make sure your team members understand that they don't need to be on each platform all day, every day. Let them know these tools are simply a way to touch base and develop new strategies — they're not tabs they need to obsessively keep open.
Communication and innovation are key when developing a solid marketing strategy that evolves with the trends, but they don't need to come before the mental well-being of your team. Talk to your employees about their experiences with digital burnout and the changes your organization can make to ensure it doesn't impact their work. Once you feel confident your team isn't burnt out, you can also ensure you don't burn your audience out.
Externally
You could spend months crafting the perfect marketing strategy — only for it to hardly make an impact. Why? Because you're burning your audience out. The time you spend doesn't automatically equate to success. What you need is to carefully cultivate a strategy that reaches the right people and doesn't contribute to their digital burnout. Here's how we recommend updating your marketing strategy to avoid overwhelming your audience.
Keep your content fresh
If you post the same content in 2023 that you shared throughout 2022, it might be time to dust off the ol' cobwebs and start fresh. To ensure you aren't burning out your audience, you'll need to create new content that's engaging and made specifically for the platform you're sharing it on (i.e., your TikTok videos don't need to go on your Facebook page).
Take time to revisit best practices for each of your marketing platforms every quarter. There are constant updates to social media, paid media, SEO, and email marketing software, so to keep things fresh, make sure you're not letting them gather virtual dust.
Regular brainstorming sessions can help here as well. Remember — it's your team members that are going to make your marketing strategy successful. So look to them and see what new ideas they have. Don't be afraid to experiment here, as something surprising just might stick. Of course, you'll want to keep it relevant, but occasionally pushing the envelope allows you to test the waters and learn more about your audience's likes.
Working with an agency that can take some of these marketing efforts off your plate is always a smart move (so long as you work with one that's actually fun — if you aren't already, we know a guy.) They can help you improve your strategies from top to bottom, so you no longer have to spend hours updating your keyword research, analyzing your website traffic, or developing yet another content calendar.
Don't overwhelm your audience
Digital burnout happens when we're on our devices too much, and the same goes for the content we consume. If we see too much of it, we grow tired. And in terms of sharing your marketing collateral, it's important not to go overboard.
Sharing on each platform once per day or even once every other day is great. Just remember that phrase above about too much of a good thing. Nobody wants to be bombarded with ads or receive multiple emails daily from one brand (or maybe you do — we won't judge). Pushing too much is a great way to quickly run out of content and overwhelm your audience.
Sure, The Rule of 7 states that a member of your audience will need to see/hear your message at least seven times before they take action, but they don't need to see the same piece of content all seven times. Try switching things up a bit, whether that's through your copy or imagery.
Cross-promotion is another subtle tactic that can help you combat digital burnout with your marketing strategy. For example, linking to your latest LinkedIn post inside your email newsletter or highlighting different offers in the copy of your YouTube videos. Small marketing moves like these can have a more significant impact than we give them credit for.
And remember: If you want to make the most of your marketing efforts, don't be where you don't need to be (we tried to be more eloquent but found this was the best way to say it). For example, if you're targeting Gen Z, you're probably wasting your time on Facebook. Instead, revisit your social and paid media audiences to determine what's working and what's not. People are much less likely to feel burnt out if you provide valuable content on their favorite platforms, so lean on your analytics here.
Share with purpose
If your business is a content-generating machine, but it loses sight of its mission and values along the way, digital burnout will be a regular occurrence for your audience. What do we mean? If you have hundreds of pieces of content at your fingertips, you might be pushing things out every day, multiple times a day. You may feel accomplished, but if each piece doesn't serve a specific purpose, it's likely to fall flat.
Before you share your content, ask yourself these questions:
Does this help us build trust?
Does this align with our values?
Will people care about seeing this?
Are we sharing this on the right platform?
Are we educating or entertaining our audience with this content?
Each aspect of your marketing strategy should move the needle forward in your business. A sleek Instagram feed doesn't mean anything if your followers aren't engaging with your content. So be mindful of how and why you share things to avoid burning out your audience.
Conclusion
Think your team is struggling with digital burnout? You're not alone. And trying to manage every aspect of your marketing might contribute more than you think. Reach out to us today so we can learn more about your strategy and how we can help!