Digital Lead Gen: Optimize for Entire Conversion Path | BFO
March 15, 2016
3 Minute Read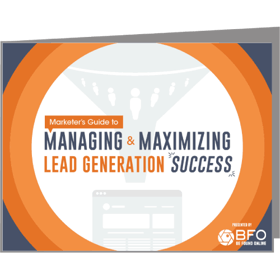 Digital lead gen through online marketing used to be simple. You identified the keywords that your audience uses or the websites that they visit most often and you purchased ads to get in front of them.
With any luck, your customers would see your ad, click on it, and then choose to fill out your lead form. From there, your sales team would go and land the deal. If not, you drop them a sporadic email and occasionally that brings your prospect back into the funnel.
However, if you are like thousands of advertisers using this simple approach, you've probably continued to see leads grow year-over-year, while sales seem to be stagnant or declining. You are investing more and more dollars each into driving leads, so shouldn't you be making more money?
You may also be afraid that your sales team is failing; meanwhile, they're constantly challenging the quality of the leads you're driving. Maybe your boss does not care, but just keeps harping on you to increase the bottom line? Or perhaps you are the business owner or executive and you're unsure where to look. Fear not—you are not alone.
Today's digital customer is smarter, more educated, and has more information channels than ever before. They want to feel that they have found the right solution, not be sold on it. So it's time to adapt to the modern digital customer. You have to educate and communicate with your customers. You have to understand what drives them and provide them with the resources that present you not only as the authority on the solution, but also the best partner for them.
To ensure that you reach your customer, keeping an open channel of communication throughout the entire buying process and adapting to their needs are the keys to success.
Attract: Ensure that you're there when your customer is beginning the research phase. This can be done through tactics such as display advertising, paid search ads, organic search, and content marketing.
Engage: Provide value for value. Consider offering your customer something of value on the landing page or website for the very low price of contact information.
Nurture: Build a relationship with your customer. Marketing automation and social channels are great ways to converse with and educate your customer. You know that they have a need, but they need the information (from you) in order to make the decision.
Convert: Allow your customers to tell you when they are ready to buy. Continue to provide them useful information through the process and give them the option to tell you when they're ready to move forward.
Measure and Adapt: Utilize conversion flow and analytics to understand how each customer travels through the buying cycle in order to adapt your strategy to your customers' needs.
Creating a strategy for the entire buying cycle and understanding what drives your customers from click to conversion will change your business. Perhaps it is time to revisit where you're investing your dollars and be sure you're focusing on the entire ecosystem. In doing so, your marketing team will be more effective, your sales team will close more deals, your customers will be happier, and your bottom line will grow.
Learn about the best lead generation tactics by downloading our ebook below!