Harnessing Synergy: Why Complimentary Agencies Should Partner with Be Found Online
August 17, 2023
3 Minute Read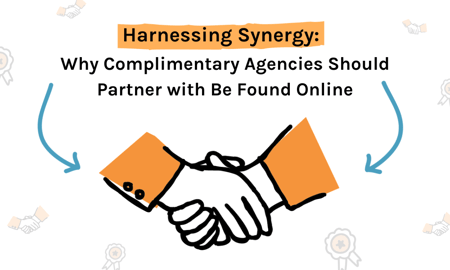 In today's ever-changing digital marketing landscape, businesses are increasingly realizing the importance of collaboration to achieve mutual growth and success. For complimentary agencies looking to expand their range of services and provide their clients with a comprehensive set of solutions, partnering with a reputable and accomplished digital marketing agency can make all the difference in the world. Be Found Online is (of course) an excellent choice for such partnerships, so let's explore why a collaboration can have a transformative impact!
Broaden Service Offerings
By partnering with BFO, complimentary agencies can instantly expand their range of services without the hassle of building an in-house digital marketing department from scratch. BFO offers a comprehensive selection of digital marketing services, including SEO, PPC advertising, social media marketing, content creation, and more, allowing the partnering agency to provide their clients with a diverse set of solutions. This expanded service portfolio boosts the agency's competitiveness and positions them as a go-to destination for all digital marketing needs.
Tap into Specialized Expertise
BFO's team consists of industry experts who have extensive experience and specialized knowledge in various aspects of digital marketing. Collaborating with BFO allows a complimentary agency to tap into this wealth of specialized expertise, benefiting from a team of professionals who excel at navigating the complexities of the digital landscape. Whether it's refining SEO strategies, executing data-driven PPC campaigns, or creating captivating social media content, partnering with BFO brings a high level of skill and expertise to the table, enhancing the overall quality of service provided by the agency.
Complement Existing Capabilities
Every agency has its own unique strengths, and partnering with BFO allows them to complement those strengths with a powerful set of digital marketing capabilities. For example, a web design agency can enhance their web development projects by integrating SEO and content marketing strategies with BFO. Similarly, a public relations agency can combine their expertise in media relations with BFO's social media marketing prowess to amplify their clients' brand presence. This seamless integration of services creates a more comprehensive and impactful experience for clients.
Collaborative Solutions for Clients
For the best collaborative partnerships, both agencies work together to tailor solutions that perfectly suit the clients' needs. By combining BFO's data-driven approach with the complimentary agency's insights into their client's industry, they create a powerful alliance. Together, they strategize and execute campaigns with a deep understanding of the target audience, ensuring maximum relevance and resonance. This joint effort strengthens client relationships and fosters a culture of trust and collaboration.
Gain a Competitive Edge
Today's business landscape is competitive, and clients are always on the lookout for agencies that can deliver outstanding results and meet a wide range of needs. By partnering with us, a complimentary agency gains a significant competitive advantage. The collaboration positions them as a well-rounded and forward-thinking agency capable of confidently tackling complex digital marketing challenges. This partnership can attract new clients and retain existing ones, leading to long-term growth and expansion in the market.
Collaborating with BFO opens up a world of opportunities for complimentary agencies. By joining forces with BFO, these agencies can expand their service offerings, tap into specialized expertise, and complement their existing capabilities. This powerful partnership empowers both parties to navigate the digital landscape with confidence, enhancing competitiveness, fostering innovation, and ultimately delivering exceptional value to clients.
So, if you're a complimentary agency looking to take your services to the next level, seize the opportunity to partner with BFO and embark on a journey of mutual success and prosperity. Together, you can achieve remarkable results and set new standards of excellence in the digital marketing industry.