Mobile geofencing offers an exciting way for retailers of all sizes to connect and engage with consumers at the "moment of truth" via mobile ads. In essence, mobile geofencing marketing allows advertisers the ability to target users based on proximity to their brick-and-mortar store. Because users are actively seeking out information relevant to the business, they are very likely to engage with the ad and visit the brick-and-mortar location, in turn increasing in-store traffic, brand awareness and profitability.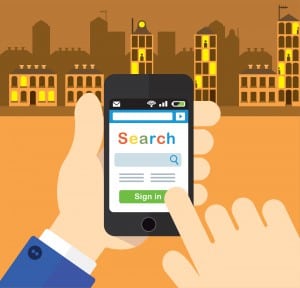 A Mobile Geofencing Marketing Success Story
In Chicago, one prominent retailer has successfully been using geofencing marketing for the past few months to woo new customers into their stores. If a would-be buyer is within a one mile radius (walking distance) of the location, searches for a relevant term on a mobile device, he or she will be served a mobile ad with a promo code for 15% off in-store purchases.
Though the retailer might only receive a few clicks per day due to very specific targeting, those clicks add up. Best of all, the investment outlay is remarkably cost-effective. This particular retailer's return on ad spend has been significantly higher than what is experienced in other forms of online marketing efforts.
The Inner Workings of a Mobile Geofencing Campaign
The basic premise of mobile geofencing marketing is simple: When users within a specific proximity to a business search relevant terms on their mobile phone, they are served an ad with an attractive offer for all in-store purchases.
What's not so simple about mobile geofencing marketing is tailoring the message to create a unique and engaging experience for each user. Ad copy for this kind of personalized experience has to be genuine and lead the reader to become part of a story. If the ad language is "pitchy" or slightly irrelevant, it's possible the user will avoid clicking the ad to learn more.
Why Mobile Geofencing Can Work So Incredibly Well
Mobile search drives buying habits, a trend that is forecasted to continue to rise over the next year. Mobile search is always happening, whether consumers are on the go, in their homes or on the job. (For instance, you might be reading this article on your mobile device right now.)
From a numbers perspective, studies show that mobile searches drive multi-channel conversions via:
Further research (30 percent are more likely to visit the website),
A site visit (57 percent say they are more likely to visit the store),
A phone call (39 percent are more likely to make a phone call to the store) and/or
Word-of-mouth sharing.
Mobile search is a key part of the decision-making process for the majority of consumers, as studies show that 45 percent of mobile searches conducted are goal-oriented (i.e., the user is looking to take action immediately), and 51 percent are likely to make a purchase after viewing a mobile ad.
Is Mobile Geofencing Marketing Right for Your Business?
Every business is unique; therefore, the right mix of mobile geofencing in addition to other marketing efforts will vary from store to store. With that being said, mobile devices are being used as a one of the primary shopping and research device for consumers, especially with the impending end-of-year shopping season so close at hand. Consequently, advertisers are shifting their marketing budget and investing more in mobile advertising because it's so cost-effective and offers the potential for a significant return rate.
We expect to see more cohesion across multiple channels and media. In today's mobile universe, the marketing mix shouldn't be limited to traditional offline and online advertising. Advertisers need to have a comprehensive offline and online strategy, with mobile advertising playing a larger part in the online media mix.
Mobile Geofencing Marketing Benefits and Takeaways
Some of the most prominent advantages to mobile geofencing marketing include:
Fully Customizable
Affordability
Targeting Capabilities
Increased Brand Awareness
Increased Customer Retention and Loyalty
Incremental Revenue
Does geofencing sound like a mobile marketing strategy that could benefit your business? Start a conversation with a Digital Agency to get your strategy up and running. Check out our ebook, 'Paid Media Agency Research Guide' to find the right agency to run your geofencing marketing.