Is It Time to Get Your Brand on TikTok?
July 13, 2022
7 Minute Read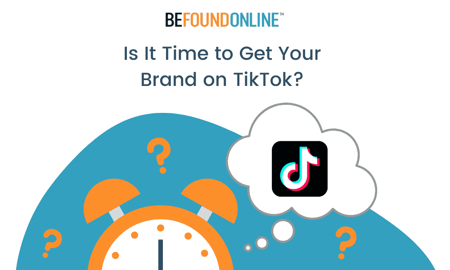 NOTE: Before we dive into the wild world of TikTok, we wanted to make our readers aware of ongoing data-privacy conversations happening around the social media platform. We recommend our readers stay up to date on this news, including this great NPR resource about cross-country use of user data.
TikTok beat Google to be the most popular website in 2021, dethroned Facebook as the most popular social media website, and surpassed YouTube's average watch time. Although it has been around for only about 5 years, it is on pace to become the most popular website.
Its growth is a result of its main type of content, videos, and its algorithm. We are living in, as the New York Times once called it, a "post-text" future. Where people are fed videos depending on what they are likely to find interesting.
This presents quite a lucrative opportunity for businesses. Allowing them to advertise through both organic posts and paid social media ads on TikTok to their target audiences around the world. A New York Times report even called it the holy grail of marketing.
Deciding whether you should get your brand on TikTok presents a conundrum. The statistics are there, and they show that this could be exactly what you need, but putting resources behind a marketing effort is a risk. And, like every risk taken, you should understand all the details in order to increase the chances of success.
Here are the important details, and why you should consider getting your brand on TikTok.
TikTok Is Different From Other Social Media Platforms
All top websites and platforms with one billion and above active monthly users are all over ten years old, except the five-year-old TikTok.
That shows there must be something different about TikTok. Something valuable. And, according to a Nielsen study to understand the value of TikTok, it is preferred to other social media because:
1. It Is Authentic
The study found that most users believe they can be themselves and trust others to be themselves on TikTok.
2. It Makes Them Happy
Compared to Facebook and Instagram which have been on the news time and again for their negative effects on mental health, TikTok users return to the platform over and over again because it "uplifts their spirit."
3. It Is Unique and Different
Users agree that TikTok has content that is not possible to access from anywhere else. It is a place they go to discover something new.
4. It Is a Community
TikTok allows users to sample other user's content and participate in viral challenges, helping them build deeper connections to others.
Other aspects that make it different from other social media platforms include:
It exclusively deals with short-form video content that is easier to consume due to our shortening attention spans.
It encourages sharing content to other social media platforms.
It fosters creativity by encouraging users to create their own unique content with its advanced video editing tools. This makes it superior to Facebook and Twitter, which are predominantly text-based.
It allows collaboration with other users.
It uses an advanced algorithm that is incredibly accurate compared to those of other social media platforms.
TikTok's Reach (It Isn't Just Gen-Z)
When making the decision on whether to get your brand on TikTok, you have to consider the age demographics of the platform. It would be a waste of time and money if you put your brand out there only to realize it doesn't contain your target market.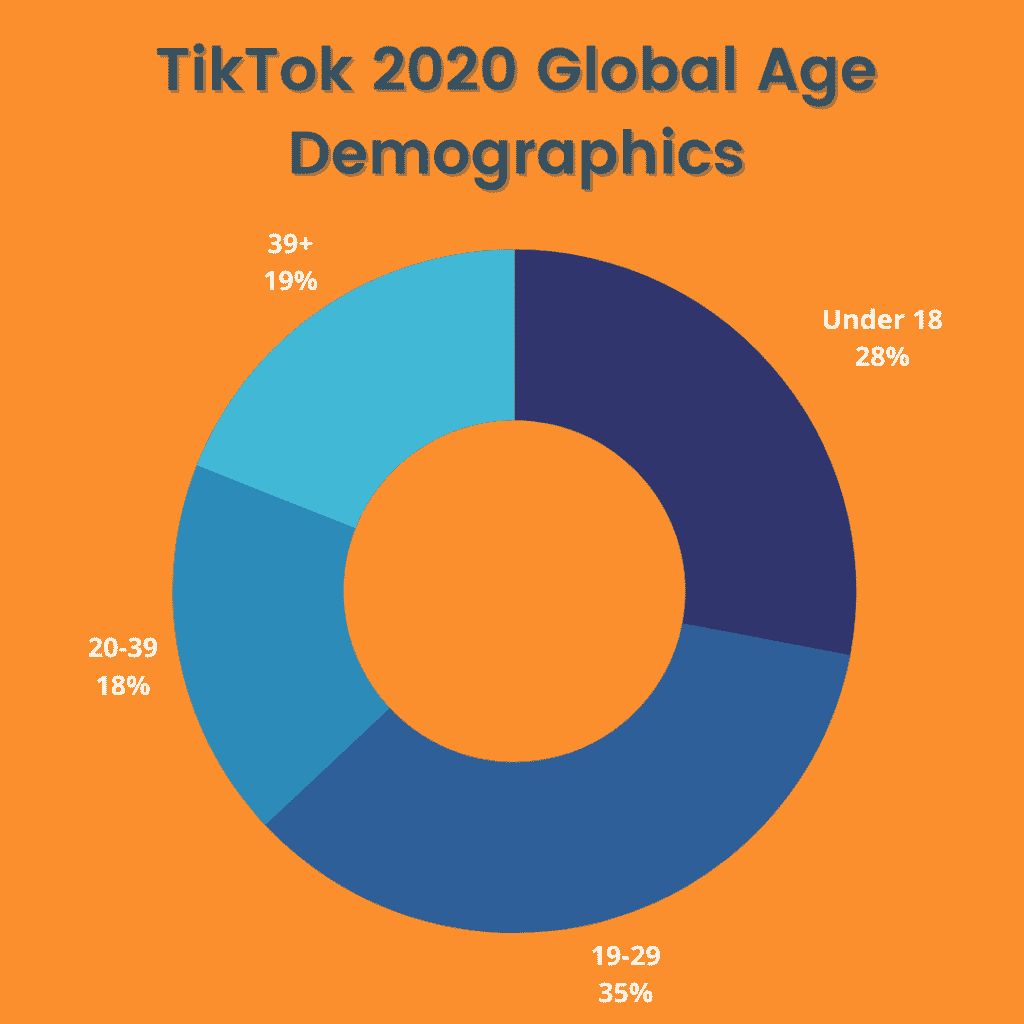 TikTok primarily attracted the younger audience, hence the Gen Z stereotype. But its enormous growth is due to the increase in users above 30 years old. Here is a breakdown of TikTok age demographics.
Under 18 years – 28%
19-29 years – 35%
20-39 years – 18%
39+ years – 19%
Note that these are global values. You can find individual country demographics on the TikTok report.
From this report, you can see that no matter the age group of your target audience, you have at least 20% of the 1 billion active monthly users to target. And millennial users increase faster than Gen Z users. They grew from 3% in February 2019 to 19% according to the report.
The Top Business Industries on TikTok
The following industries harnessed the power of TikTok to increase their reach, share a unique brand personality, and drive meaningful traffic.
1. Entertainment Industry
Entertainment brands already had an advantage when joining TikTok because they already had a team of video creators. By sharing interesting videos, they are able to engage with their audience. For instance, Nickelodeon's products appeal to the Gen Z majority of TikTok users, and Netflix, by repurposing its shows to create memes, attracts quite a huge following.
2. Sports
Sports brands such as NBA and ESPN share content related to sports, attracting a huge following of sports fans. They also tap into the comedy aspect of the platform by sharing meme videos, attracting even non-sports fans.
3. Fashion and Beauty
By posting DIY beauty hacks and tutorials, the fashion and beauty industry has garnered quite a large following on TikTok. It is human nature to want to look good and by sharing how audiences can do it themselves, the fashion and beauty industry has gained quite a following on the platform.
The benefits of TikTok to marketing are not exclusive to large brands and top businesses. Small businesses can also take advantage of the platform by participating in popular challenges and trends and using hashtags. These techniques allow even small businesses' products and advertisements to show up on an interested party's feed alongside those of a large business. Niches like apiculture (beekeeping) have found a home on TikTok and a way to reach a new audience. If your organization falls into a similarly niche category, TikTok may be the in you have been looking for to expand your audience.
Why Your Brand Should Be on TikTok
By joining TikTok and sharing videos, you will enjoy the following benefits:
1. It Will Boost Brand Awareness
As mentioned above, TikTok doesn't recommend videos to your feed based on the people you have followed. It shows you videos based on your interest, and it is highly accurate.
When you post videos of what your business does and what products or services you offer, your target audience doesn't have to follow you to see it. It will just show up in their feed. This increases the number of people who have heard of your brand, increasing their likelihood of them interacting with you.
2. It Tells Your Brand's Unique Story
The Nielsen study quoted above found that TikTok users find the content authentic. You can take this opportunity to tell your own unique and authentic story, as they are more likely to believe it.
Using the advanced video editing tools, you can find a creating and interesting way to film and polish the video, increasing the likelihood of connecting with your user base, and building lifelong customer relationships.
3. It Helps You Reach a Younger Audience
It's near impossible to reach a younger audience with the other social media platforms. Not many platforms have the reach with younger demographics that TikTok does. More so, TikTok appeals to a lower attention span, making engaging with a younger audience easier through short, interesting videos before they divert their attention elsewhere.
TikTok May Be the Key to Reaching Your Goals
Whether you are looking to increase leads, build authority, boost conversions, or have another set of goals, using one of the most engaging forms of marketing – video – in one of the up and coming most popular platforms – TikTok – is likely a sure fire way to do it.
But marketing doesn't end at sharing a creative video. Sure, it may lead to more impressions once you start doing it consistently, but there are many details you need to take into consideration to achieve your goals. If you are interested in advertising your brand on TikTok or exploring what the right strategy is to achieve your unique marketing goals, reach out to Be Found Online today.