LIFE and Lindsey Stone: Lessons in Online Reputation Management
November 29, 2012
3 Minute Read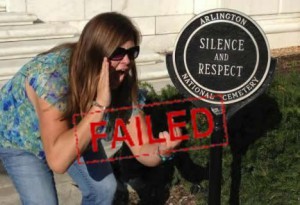 A few weeks ago, 30-year-old Massachusetts native Lindsey Stone accompanied a group of 40 disabled adults on a trip to Washington, DC, as part of her job as a case manager for LIFE (Living Independently Forever), Inc.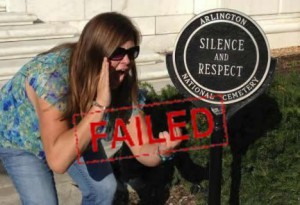 Her supervisor snapped a photo of Lindsey with her middle finger extended and her face contorted in a mock scream as she crouched before a sign at the Tomb of the Unknown Soldier that read "Arlington National Cemetery: Silence and Respect."
Days after Lindsey Stone posted the photo to a Facebook page she thought was private, it went viral. The ensuing uproar spawned a Fire Lindsey Stone Facebook page, as well as a petition asking LIFE, Inc to fire Lindsey. In short, the picture became a public relations crisis for Lindsey and her non-profit employer.
Although Lindsey and the supervisor have apologized for the photo, which Lindsey described as a visual pun, both are now unemployed, Lindsey's online reputation is badly damaged, and she is in hiding because of threats by some angered by her thoughtless gesture.
First, let's consider Lindsey. She has made herself news in a very negative way and works in a relatively small, specialized part of the non-profit world. Most employers in that niche, in addition to doing traditional background checks, probably screen prospective employees by doing online searches and examining social media profiles. This controversy will make it tough for Lindsey to get her next job.
Although I am repulsed by what Lindsey did, I am also saddened by it. She appears to have arrived at Arlington National without thinking about where she was or why so many Americans feel so strongly about respecting the more than 400,000 men and women buried there.
The lesson for her is simple: Your future employers or clients will see what you say and do on social media sites. Consider carefully what you post, and use good judgment in managing your personal online reputation. Be classy. Be sensitive to where you are.
Second, let's consider her employer. LIFE, Inc.'s leadership took swift action to distance the organization and their community from Lindsey's conduct, so the fallout may be small. The CEO at LIFE, Inc. investigated, explained, and acted decisively. The organization also has significant goodwill because of its mission to help their community.
LIFE, Inc. has a Facebook presence and does a good job of sharing its events with their community. However, it should consider doing some social media training for its employees and laying out guidelines for work-related postings. Such guidelines might have prevented Lindsey from posting the photo.
Organizations need to have clear guidelines for employee-use of social media and make sure that all employees know and understand them.
Just as a single misstep can do incalculable damage to an organization's online reputation, so a well-designed long-term program to manage online reputation proactively can safeguard a company's most valuable asset.
As famed investor Warren Buffet once said, "It takes 20 years to build a reputation and five minutes to ruin it."
Want to send out content that is not only socially acceptable but also benefits your business? Start with a strong content marketing strategy.