The Eight Fundamental Steps to International Website Migration
April 27, 2016
4 Minute Read

Undergoing a full organizational website migration is a daunting task, with many potential pitfalls and issues to navigate, as you strive to retain as much of your SEO value as possible. It doesn't have to be a terrifying prospect, though; as we covered in part 1 of this migration series, there are three main factors that should remain a core focus of the migration process:
Managing the Loss of SEO Value
Consistent User Experience
Local Language Variation
To help manage the website migration process further, we've created a handy, step-by-step list to guide you through the eight main steps of an international migration, as well as explaining the issues that you should remain aware of as you implement your own website migration.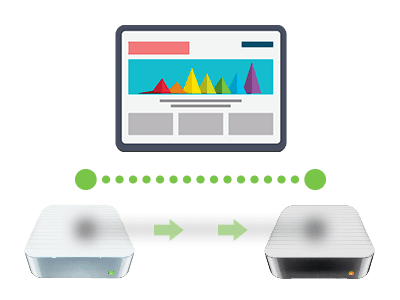 Let's take a brief run through the first few steps:
Step 1: Objective setting, preparation, and planning for your website migration
Most importantly, when you begin your international migration project, you should appoint a qualified project manager. It's also essential that from the outset, you agree on a set of objectives that can be communicated clearly to all stakeholders involved in the program, to estimate the time and effort required and to be on the same page when it comes to key deliverables.
You will also need to create a thorough website migration process to communicate and gain the buy-in from all involved, as well as their commitment to undertake the work and stick to the project timeline.
Step 2: Baseline creation
At this stage, you need to establish the existing performance of your website so that you can compare this against the completed website migration. A good way of doing this is to measure your existing performance-ranking data for every page your website ranks for. You can also gain an insight into the shortfalls of your existing website by completing crawls.
Other key factors at this point include identifying the high-value pages and 4XX issues across the website. It may also be useful to use tools, such as BrightEdge, to ensure your end website is performing against your expected KPIs.
Step 3: Implementation planning
Having assessed your highest value pages, you will need to make key URL structure assessments at this stage, considering regional keywords and local languages URLs.
The next step is to undertake regional keyword research to check that local slang, semantics, and phraseology will not impact the overall SEO performance. Consider that your highest value pages will map to the most important keywords, and a 'golden' keyword list will emerge – the same core set of keywords that have the same meaning in each language.
Step 4: Staging & pre-migration audit
Now you should be working in an experimental (staging) environment as you begin to prepare your pages for migration. There are a few technical issues to mitigate here, including blocking crawler access and creating a robot.txt file, eliminating duplicate content issues, preparing the xml and HTML sitemaps and optimizing redirects.
See you on the other side…!
Now you are at a point where you are on the brink of pulling the lever and setting your new website live! Your next step is to plan that lever pull very carefully – choose a time when traffic to your site is low, but make sure your web team and IT support are on hand.
Now that was a very fast run-through – for a longer look and to follow steps five through eight of the international website migration process, click here to download the eBook.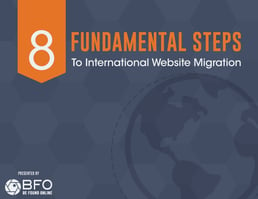 You will learn how to go about translating your pages, as well as undertaking thorough post-migration reviews and remediation processes in order to reach 'business as usual' and achieve your idea of what 'good' should look like.