So you have a pile of email addresses. Great. What can you do with that? Quite a few things actually. You can know more about your customer. More importantly, you can sell more to them.
And your email address can connect to giant datasets on the internet as you scale up your email program and expand to prospects. Let's take these one at a time and there is a nifty scorecard you can use to customize this list on your own priorities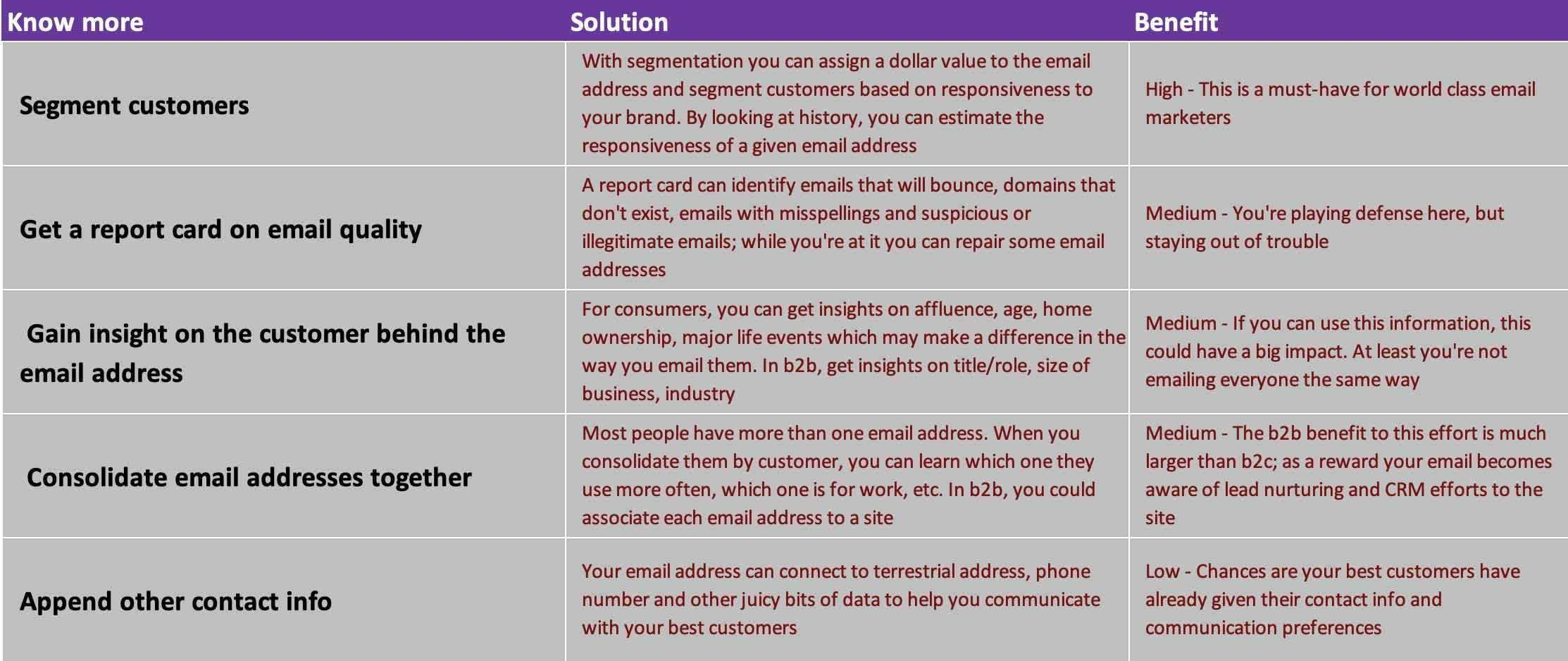 Know More
Segment customers.

Stop emailing worthless customers. You can assign a dollar value to the email address based on customer lifetime value and segment customers based on value and responsiveness to your brand. By looking at history, you can estimate the responsiveness of a given email address. You may be surprised to see the number of times a customer has received your email

Gain insight

on the customer behind the email address

Get insights on affluence, age, home ownership, major life events

In b2b, get insights on title/role, size of business, industry

Consolidate email addresses

by customer, see which email they use more often, which one is a work versus personal and which one is desktop or mobile device. In b2b, you could associate each email address to a site

Get a report card on email address quality

so you can be smarter about not emailing everybody

Identify bounces, dormant emails, domains that don't exist, emails with misspellings, suspicious or illegitimate emails

Identify emails that can be repaired and put back into service

Append other contact information.

Your email address can connect to terrestrial address, phone number and other juicy bits of data to help you communicate with your best customers
Sell More
Vary and personalize emails.

World class email marketers are always finding ways to personalize subject lines, messages and offers. With continuous testing, astute marketers are putting data to work to sell. Experience tells us that behaviors outperform third-party data, but rules are made to be broken and everything is up for grabs. From this list, which do you think would be most lucrative?
Purchase data – prior purchases, next most likely purchase, just visited a store

Loyalty program data such as thresholds, pacing, trajectory

Vary offers based on likelihood to keep buying or to reactivate dormant customers or an upcoming expiration date

Browser behavior, clicks on items, downloads, shopping cart actions, forms

Contextual data, especially if location services is turned on (so you can determine proximity to a store or event going on that day). Realtime data like weather and time of day sometimes makes a difference

Demographics/firmagraphics are important, but you have to prove the value
But remember: just because you have someone's email address, doesn't mean they want to get your email
The best marketers create Personas, a Strategic Message Architecture that map messages to them, and really understand what the customer goes through as they interact with your brand. These Customer Journey Maps add tons of insights and the email program is what makes them actionable
Scale Up
Onboarding email addresses, which is the process of matching your email addresses to firms with giant datasets such as Google, Facebook, LiveRamp and Adobe (i.e., Facebook Custom Audiences, Google Customer Match, Twitter Custom Audiences, Live Ramp Data Matching and Audience Prospecting)

For customers who match, onboarding allows you to put a display ad in front of existing customers. This approach can repeat messages to them or suppress them if they are already buying

Onboarding programs can find prospects who look or behave like your customers in some way: prospects who search like your best customers, match demographically, watch the same YouTube videos etc. Models can even use hundreds of pieces of data to predict if your customer is in the market for something, a service or product that would be invisible to you, without the data these vendors put to work

Email coops

Email coops match data to other emailers and let you to see your customers in a new light. They may be shopping elsewhere (even if they're not shopping from you). You can learn the most responsive time of day (which may vary by work versus personal email address) and mail at that time