Why You Should Be Worried About Google Analytics 4
April 28, 2023
12 Minute Read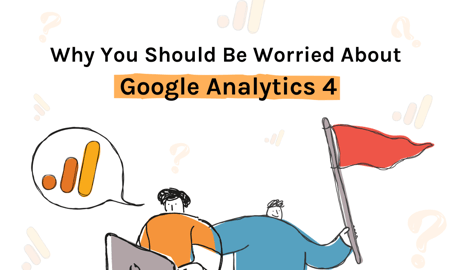 Universal Analytics continues to ride off toward its July 1st sunset date. Depending where you and your team are in the process of migrating to the new kid in town, Google Analytics 4, you might be starting to sweat a little bit under that deadline.
Whether you're in the process of moving to Google Analytics 4 (please don't rely on the auto-migrate feature that Google offered) or still need convincing of its tremendous leap forward, we're here to help you with your next steps. We can't wait to showcase this amazing tool for you! You can watch below or read on to find out what it takes to get set up with healthy analytics in 2023.
Why You Need to Migrate to GA4 Yesterday
Because tomorrow never really comes…
Time Is Ticking/UA Sunset Date
Time (as we understand it) only marches forward, and that's one thing that GA4 hasn't changed. Universal Analytics will stop collecting data on July 1st, and it's very likely that the sunset date will not be bumped or reset. Unless you have a GA360 subscription, which buys you another year, you should be preparing to say your farewells to UA. You don't want to get caught behind the curve here, so we're again breaking out our patented (maybe) "Worry-O-Meter" to help visualize how much time you have left:

There's still time to migrate to Google Analytics 4, but if you put the switch off until May or June, you're at risk of being in hot water. If you have any third-party plug-ins or custom events set up, you're gonna have your work cut out for you. The UA to GA4 transition isn't a task, it's a project. You and your team should build a solid plan to migrate that includes time to QA your set up. YOU NEED TO QA YOUR SET UP!
The Learning Curve
Google Analytics 4 is so much bigger and better than Universal Analytics that it makes more sense to think of it as a completely new tool, not just an update. GA4 is based on a different data model than UA and presents with totally new interfaces. The platform has been recreated from the bottom up to map the modern user journey while adhering to up-to-date privacy standards.
These fundamental changes mean that a more thorough understanding of GA4 and its capabilities will be needed. Sadly, previous experience navigating UA isn't going to be a lot of help when using GA4. Don't let this intimidate you, but take your time to learn the new platform and its capabilities before UA stops collecting data on that July 1st sunset date. The sooner you get up to speed on GA4, the better off you'll be.
Gaps in Data Are Real
Accurate data is the foundation of all good marketing decisions, and losing even a week's worth can have a big effect on your strategic direction. If you're not fully set up and migrated to GA4 by the UA sunset date, you're likely to throw off your foundational data.
That's not to say that there won't be any notable changes to your data after migration. Don't expect old reports and new reports to look exactly the same. You and your team will want to look for deltas in your data simply because of the way GA4 collects and structures data. Google has transitioned from a focus on sessions to a more detailed view of events, and so things are going to look different when visualized on the new platform.
Why You Should Not Let Google Do Your UA to GA4 Migration for You
We try not to shout on here, but here's an exception:
DO NOT LET GOOGLE DO YOUR MIGRATION FOR YOU.
We repeat: DO NOT LET GOOGLE DO YOUR MIGRATION FOR YOU
Sorry, just had to get that out there.
If you've already agreed to the pop up that has likely been hounding your UA account everytime you sign in, it's not the end of the world. But we would recommend that you begin a roll back and reconfiguration immediately so….why not reach out to us?
One-Size-Fits-All Mentality
Google may say that their auto-migration is a viable one-size-fits all solution, but one size can't fit all when it comes to data and analytics. Sorry to say, but there's no magic pill, no shortcut solution here. Unless your UA is only for the most basic of data, your migration through google will probably suck. Goals won't properly come over, and custom metrics or dimensions you've configured aren't transferring either. Customizations in general are going to get erased using this feature. You might even lose data! Please, please don't do this if you have an eCommerce-based site.
Do It Once, Do It Right
Your analytics capabilities are more powerful and technical than ever with GA4! At the end of the day, properly migrating and configuring GA4 will save you money in the long run. You'll understand it better, plus UA is going away, so there's not really another option.
What If I Already Auto-Migrated?
If you're one of the many people that instinctively clicked that "yes" box when Google told everyone they'd be auto-migrating, don't worry! You're not doomed, there's still hope and time for you to get back on track. It may be a little complicated, but there is a process to rollback your GA4 migration. You can check out these Google Support resources, or get in touch with a Be Found Online tech wiz and let us get things rolled back for you!
7 Things You Should (Probably) Know About GA4
For those of you who are only just now getting acquainted with Google Analytics 4, hopefully we can get you started on the right foot. If you're already getting into the migration process and are confused about changes to data, functionality, or interfacing, we can help clear things up for you here as well.
Spoiler alert: this is an awesome platform. GA4 is definitely a more in-depth experience, and seems custom created for the data analyst in your life. Once you figure out how to use it, though, the insights are truly amazing.
Privacy & Data Collection
Google Analytics 4 is created to help move you into the future. It's built to help you understand the modern user and the things that matter to them, chief amongst which are informed consent and privacy around their data.
Power for a Privacy-First Web
GA4 has been created with privacy-forward features for a privacy-first web. With UA, data was mostly held on servers in the US, which made it non-compliant with General Data Protection Regulation (GDPR) in several European countries. Google Analytics 4 allows site owners to collect valuable information about users while remaining GDPR compliant on a more privacy-oriented web.
With a transparent privacy policy, site owners can unlock GA4 features like cross platform reporting, remarketing audience creation, advertising report features, and demographics/interests. Cookies may be on their last leg, but GA4 is still using them to identify users. According to Google, GA4's machine learning can fill in data gaps when cookies are blocked.
No IP Address
Universal Analytics was able to view IP addresses unless they were anonymized during configuration. GA4 won't collect IP addresses in an effort to protect users' personal identification information.
There are third-party tools that can de-anonymize your users on the front end, sometimes up to 30% – 40% of your total traffic. This can be hugely useful for determining whether you're reaching the audience you want.
Google Signals
Google Signals is GA4's solution to user behavior data. What's unique about Signals is that users have to opt in to Ads Personalization through their Gmail preferences. You will have to set this up in GA4 if you want to collect behavior data, so be on the lookout!
Data Retention Options
We now have better control over data retention. Depending on what's right for your organization, you can use GA4 to control how long you're storing user-specific data. That way, you can get the information and data you need while still remaining compliant with current data policies.
Data Streams & the Modern Web
This isn't the 2012s internet anymore; your analytics should reflect that.
An Analytics Platform for Today's Web
UA is now a little over 10 years old, and it shows. With the global proliferation of smartphones and a social shift towards "bite-sized content," the way people interact with the web itself has changed. Gone are the days of five touchpoints to conversion — now it's often between ten and twenty-seven touch points.
Thanks to GA4's advanced machine learning and data modeling, we can get a better understanding of how to attribute that data correctly to the different channels people are working with, and make sure we really know where to put our marketing money. When properly configured, GA4 can get a clearer picture of the step-by-step user journey.
Single Page Applications (SPAs)
GA4 is very compliant with modern sites that use dynamic content loading. These Single Page Applications like Netflix, Facebook, Gmail, and similar are great for end users, but make tracking interaction from page to page very difficult. GA4 has solutions that, when properly configured, can help us make sure we're not losing out on that data.
Event-Based Data Model
Hit types in UA included page views, events, eCommerce hits, social timing hits, and more, each with their own unique structure designed around UA's data model. GA4 is built instead on an event-based data model that can actually grant us more granularity on data. More user interaction customization means you can see details that really transform your marketing strategy.We don't recommend using GA4's default events or form interactions, as they tend not to work as well out of the box. Always opt for custom configuration so you know you're getting real, reliable data. If you have any questions around tracking or custom configuration processes, reach out to a Be Found Online analyst through our website or email.
Making Sense of Metrics
Switching to GA4 now makes a Metric Ton of sense.
Users
In UA, there were two main user metrics you could rely on: Total Users and New Users. GA4 adds one more: Active Users. These are distinct users that visited your website or app and had an "engaged session." This is the primary user metric of GA4, a change from UA's Total Users focus. The level of engagement is much higher for an Active User compared to a Total User. As a result, when comparing data directly between the two, there may be an apparent drop. However, that lower number is going to be a lot more reliable for your marketing analytics.
Page Views
In general, Pageviews should be within a few percentage points between UA and GA4 due to differences in data modeling, but we should be pretty close. Differences in filters may also affect your data.
Sessions
There are three main differences between UA and GA4 sessions.
GA4 is going to be looking for specific, easy-to-track triggers for events like the "session start" event that's then associated with other events in the session.
Sessions no longer reset or time out at midnight as long as someone is within the engagement window (default — 30 mins of inactivity.)
Campaign parameters don't restart a session anymore, as even a change in campaign is now part of the full user journey.
Keep in mind that UA allowed for additional filtering options that are no longer available. These may have impacted the data contained in the view you're comparing to. For more on changes in metrics from UA to GA4, visit Google's documentation or hit up BFO to connect with our Analytics team!
Reporting
How do we visualize data in GA4? It's different than we may have been expecting — but not in a bad way.
Built for Custom Reporting
With our more granular GA4 data, there are major reporting opportunities. We can dive into micro-conversions, those little touchpoints that make such a big difference in the conversion cycle of your user journey.While UA may have been a suite of all-encompassing reports, GA4 has far fewer built in. GA4's Custom Dimensions (Event Parameters) excel at collecting and reporting unique, customized data that can inspire dazzling new marketing analytics insights.
Explore Tab
Similar to UA's Custom Reports tab, the Explore Tab allows you to pull in and compare different metrics you may be looking for. Explore is great for short term insights, but it's not the prettiest way to look at data, and sharing is limited.
Looker Studio
Looker Studio (Formerly Data Studio) is our preferred reporting method, a top to bottom solution for visualized data that's perfect for both big picture senior level reports and granular data reporting for analysts. Custom reports in Looker are fast and easy, but they're subject to data access or transfer quota limitations. There are, however, solutions to these limits.
Big Query and Beyond
This is the solution Google is putting forward as a place for you to house your data, and a great way to get around Looker Studio quota limits. BigQuery is part of our future planning for GA4, as it allows you to integrate multiple platforms to merge YoY data from UA and beyond.
Got a GA4 reporting puzzle? A use case problem you need solved? The BFO Analytics department is always looking for a new challenge.
Integrations
We finally have a solution to the platform-hopping of the past. Google Analytics 4 is primed to play with other Google Integrations with more Product Links than ever before! GA4 offers a new link to Google Merchant Center, plus free native exporting to Google BigQuery.
Linking Google Ads and Google Search Console now unlocks additional insights and reports in the GA4 UI, allowing you to tie datasets together seamlessly without spreadsheet chaos.
Account Structure
How does GA4's setup differ from UA?
No More Views
Universal Analytics had an account structure consisting of three elements: Account, Property, and View. That meant many views per property, and applying different filters to customize the data set for each specific need.
In GA4, there are only two elements: Account and Property. There are also only two filtering options for Property data: Internal Traffic and Developer Traffic. You haven't lost visibility; in fact we have a better picture overall of what's going on. When looking at reporting, you'll have to learn to filter or pool data differently for different areas connected to your domain. This change can be a bit of an initial headache, but it makes a big positive impact in the long run.
Adding Additional Data Streams
GA4 Users can make up for the loss of views by segmenting traffic by Data Stream. Each Google Analytics 4 property can have up to 50 data streams, so you can connect subdomains, areas, apps, etc. to pool data for your site.
Further Customization & Reporting
Depending on the organization, further customized reporting could also mean that the Analytics administrator is often required to create more customized reports in Explore or Looker that cater to a specific user or use case.
Need Help with GA4? We Can Help!
Your frustrations meet our solutions!
Education & Training
If GA4 is still a mystery, this is for you. Learn how to navigate the platform and pull valuable insights from your data. Our team of experts can walk you through a hands-on setup process that leaves you with the knowledge and power to carry on.
Guided Implementation
Do you have a tech savvy team or analyst that hasn't had the time to learn GA4? It can take 6-8 months to learn a new platform, let our Analytics team guide your team in their implementation. You'll receive in-depth guides and continued support from our GA4 experts. Want to set it up top to bottom without digging through Google's long (and often poorly written) documentation? Our guided implementation might be perfect for your team.
Top-to-Bottom Service
BFO handles it all for you. From basic GA4 configuration to a completely customized solution that gives your business the valuable insights they need to succeed — we can do it. July 1st is quickly approaching, if your team doesn't have the bandwidth to implement for whatever reason, we can even combine some of these services.
Conclusion
Made up your mind to migrate? Be Found Online can help, whether you just need pointers or want it done by our team of experts, we're here to serve.