BFO Joins Grow with Inbound 2020 After Recent Launch of Huble Digital
September 01, 2020
3 Minute Read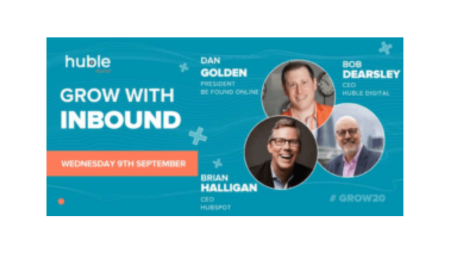 Our number one goal at BFO is to help our customers take their digital marketing efforts to the next level, which is why we are really excited to share that our international partner, Huble Digital, will be hosting Grow With Inbound 2020 on September 9th, and you're invited to attend!
The largest solutions provider for HubSpot software, technical development, implementation and onboarding and consulting services in Europe, Middle East & Africa (EMEA), Huble Digital differentiates itself by providing the same quality of HubSpot software, CRM integration, CMS web development, application development & integration, implementation & onboarding consulting services, content creation and PR.
Which brings us to… we are really excited to share that BFO is now able to offer a full suite of integrated CRM and Inbound Marketing services through Huble Digital – one of the few HubSpot Elite Partners in the world. They just so happen to have more successful HubSpot implementations than any other Solutions Provider.
There's More!
As a HubSpot user, we are participating in Grow With Inbound 2020. That's right, a full day of inbound marketing education, with keynote speakers and industry thought leaders who include:
Brian Halligan, CEO and Founder, HubSpot
Bob Dearsley, Chief Executive, Huble Digital
Christian Kinnear, VP of Sales & Managing Director EMEA, HubSpot
Katie Burke, Chief People Officer, HubSpot
Tyler Lessard, VP of Marketing, Vidyard
Jessica Packer, Managing Director UK, Huble Digital
Join us on a journey that explores how the world's most innovative brands are harnessing the power of Inbound for growth post-COVID-19. You'll hear from more than 20 of the greatest minds in sales and marketing from across 5 continents.
Guess Who's Speaking at Grow With Inbound 2020
Our very own Dan Golden will be talking "Future of Search Marketing. What's Now. What's Next." Proud search geek and Huble Digital USA VP, Dan will take you into a deep dive on how search is changing, and what's next, with actionable tips you can apply to your brand.
A little more on Dan: Digital marketer, speaker, entrepreneur and BFO's president and co-founder, Dan is a search marketing rock star and a go-to paid media and SEO specialist committed to his clients' bottom line. Don't miss his session! FYI – It's September 9th at 10:00 AM CDT. Register now!
BFO + Huble Digital
Huble Digital is headquartered in London and operates from offices in the UK, USA, Singapore, Germany and South Africa. With a number of international clients looking to grow using the HubSpot enterprise tools, we need to be able to service our customers across US, EMEA and APAC, so this move into North America helps us to do exactly that.
"Launching this new Huble Digital business here in Chicago is a great adjunct to our existing Befoundonline.com business. We shall be able to support our customers better with the extended range of services that Huble Digital provides around the HubSpot platform, particularly with regard to HubSpot web CMS and application integration services." – Steve Krull, VP, Huble Digital, CEO and Co-founder, BFO
Huble Digital is the exceptional outcome between two of the world's largest and most ambitious HubSpot Partner agencies: The B2B Marketing Lab and MPULL, both of which had been around since 2012. With B2BML's global presence and MPULL's technical capability, our unified expertise is greater than the sum of its parts.
This growth has extended the number of services we offer to large enterprise businesses, and it's our mission that this support continues to grow through the launch of new international offices and the hiring of further specialists.
"Expanding into North America was the natural next step in our mission to provide world-class digital strategies for HubSpot users across the globe. We have always had a strong connection and affiliation with Chicago through our good friends at Befoundonline.com and our existing mutual clients. We now look forward to providing the highest level of HubSpot support to US businesses looking to transform their business channels on an international basis – we will provide digital marketing, sales and service consultancy to the same world-class standard, anywhere in the world, using our own, Huble Digital Process Methodology." – Bob Dearsley, Chief Executive, Huble Digital
Trading as Huble Digital Inc. in the USA and with offices in the UK, Singapore, Germany and South Africa, the Group provides truly international digital business & marketing services across marketing, sales & CRM, customer service, SEO & PPC, Public Relations and technical development.