I was recently a member of the audience at SMX West when a panel including Detlef Johnson, Barry Schwartz, and Jessica Bowman all of Search Engine Land discussed the 2019 SEO Periodic Table of SEO Elements. I'd like to share with you some of their insights and my own to examine how the powers of SEO optimization have shifted within the past 12 months.
SEO is typically seen more like a science rather than an art form, though arguments can be made for the later. Personally, I believe it to be a healthy mixture of both.
Science, as a process, progresses through testing and experimentation to work towards a hypothesis, but it will never deviate from a presented path. In short, science goes where the data takes it. Art often begins with no desired conclusion, but simply to achieve a goal of creating something meaningful and often beautiful.
Let's examine the key elements of the table from the aspects of Site Content, Architecture, HTML, Trust, Links, the User, Toxins, and some Emerging Verticals that can have the most profound impact on your site:
Site Content
Keyword Research & Selection
These two elements go hand in hand. Thorough and wide-reaching keyword research is paramount to reaching your target demographic. By building an extensive keyword list you can be sure all content on the site is covered under your research umbrella. Often it's during this phase you will observe keywords outside of the established topics which can be utilized for additional peripheral content.
Quick Answers
This has been a goal of ours for some time now. There are methods for attaining that coveted top "Answers" result in the SERPs through a few key best practices. For example, arranging content in a numbered or bulleted list can help to evoke a quick answer result much like in the recipe result below.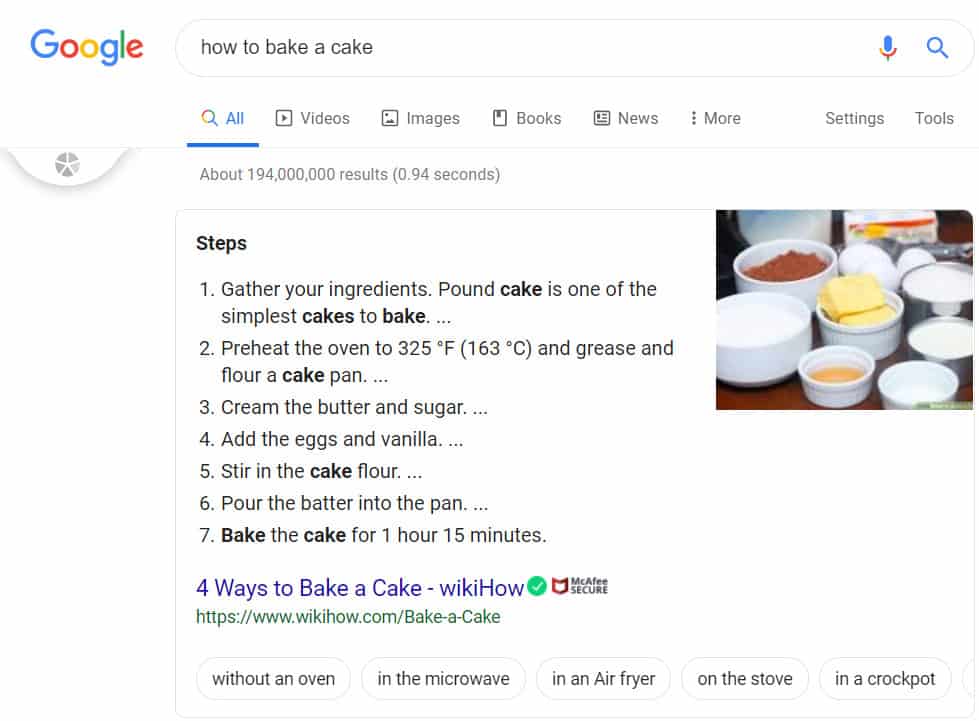 Quick Answer Result. Google Search: How To Bake a Cake
Site Architecture
Site Speed
More than ever site load time will dictate a sites true CTR. You may have the perfectly optimized meta elements, warning-free schema, and a catchy title. But if your site takes any longer than 3 seconds to load on mobile, then you are losing over HALF of your visitors. A simple site speed audit to look at things like image compression can do wonders for your page speed.
Secure Your Site With HTTPS
Google now requires a site to be secure or it is marked as Not Secure right in the web address bar. This is a no-brainer. Follow these simple steps to secure your site and avoid that scarlet letter:
Host Your Site With Dedicated IP Address
Purchase an HTTPS Certificate
Activate Your HTTPS Certificate
Install The HTTPS Certificate
Update Your Site To Use HTTPS
HTML
The best way to complement your perfectly crafted metadata and keyword infused URLs is to create a fine-tuned schema profile to wrap around your keywords. Think about what your page is trying to convey and pull the most important schema mark-up from schema.org.
Review Schema Example

Product Schema Example

Video Schema Example

Trust
Website Authority
There are several different SEO industry sites that claim to have the more accurate method for assigning an authority score to a site. Among them are Moz, Ahrefs, and SEMRush and each makes fairly frequents updates to their scoring algorithm to keep pace with the ever-evolving over 200 Google ranking signals.
While you want to monitor your general website authority, it's more important to focus on the individual signals that make up the whole. Work your social channels to boot engagement. Consistently auditing your linking profile to be sure you are receiving links from the most viable site possible is important as well. Actively work to acquire those links through outreach.
Speaking of outreach…
Backlinks
Quality over quantity is key here. It is more beneficial to have a single link from a site with a high domain authority than it is to have several from sites of average or lower domain authority. When building your outreach strategy, you want to ask these four questions about the websites you're reaching out to:
Does the prospect site have a respectable authority score? Typically, a score is 45/100 or above is desirable.
Does it pass the eye test? If the layout is sloppy or you've found one of the four remaining Geocities sites, take a pass.
Is the prospect site content high quality? If they utilize videos, infographics, etc. then go get 'em.
Is their content related to your content? The best way to garner backlinks it to speak the prospects same language.
… and don't ignore those whales! Go after the CNNs and the About.com's. A single link can shoot your site to the next level.
User
Language
Language! This is the most important for eCommerce sites or any interface that has a likelihood of being used by an international audience. To cater to your international users, implement Hreflang tags for any pages you have translated into a specific language. This indicates to Google which language you are using on a specific page, so the search engine can serve that result to users searching in that language.
Example of German hreflang tag:
<link rel="alternate" href="https://www.yourdomain.com/de/blog/" hreflang="de" />
User Experience – UX
Perhaps the coolest of the SEO abbreviations, UX has become an industry all its own. From template design to color scheme, UX is a critical element to consider when creating the customer journey for your site and pushing your users through your conversion funnel.
Toxins
Intrusive Content
Perhaps the most common of the toxins listed in the chart, I have often seen sites with too many ads and those annoying interstitials (anything that covers content). Google has recently dedicated a penalty for annoying mobile interstitials such as the one below: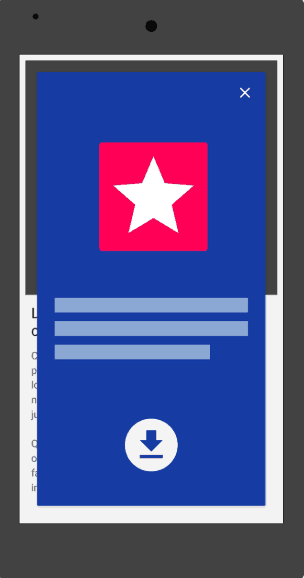 Interstitial Ad Example – Marketing Land
Ads are the backbone of eCommerce and in themselves are a fundamental feature of today's Internet. But being cognizant of your UX can mean the difference between hosting a financially successful website and incurring a crippling Google penalty.
Content Piracy
Piracy is a scary word, and it should be. Simply put, all of your content should be completely unique to your site. The repurposing of images not-withstanding (see the blog post you're currently reading as an example), any copy or version of digital content should be completely original.
Ecommerce sites with lots of SKUs can be infected by this toxin. The need to create unique copy across hundreds and thousands of pages can be daunting. One area my clients have struggled with is including manufacturer descriptions. More often than not, if this copy is not edited for your site then it can be flagged as stolen from the manufacturer's site.
Emerging Verticals
Voice Search
Perhaps the most hyped emerging search technology, voice search has made exponential advances in the past few years. If you aren't considering voice as a part of your routine optimization, then you will be left in the dust by as soon as the end of next year, according to several sources. Let me hit you with the stats:
General:
50% of all searches will be conducted by voice search by 2020.
1 in 6 Americans owns a voice-activated smart speaker.
72% of people who own voice-activated speakers say that their devices are used as part of their daily routines.
Commerce:
1 in 4 shoppers used voice assistants in their holiday shopping during the 2017 season.
Last year, 2018, saw $1.8 Billion in voice sales.
By 2020, voice sales will account for $40 Billion worth of all U.S. commerce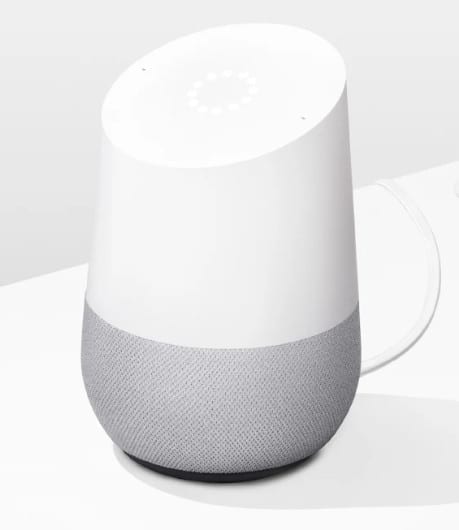 Image: Google Home. The most accurate and widely used device in voice search currently.
So, basically commerce is shifting from our fingers to our voices… and rapidly. Concerns about surveillance and the creepiness of those search results that are a bit too on the nose following a verbal conversation be damned. The consumers have accepted voice because it is becoming a simple, fluid, and convenient method for making purchases.
With the rise of expedited shipping, in some major cities, you can shop for an item, purchase it, and see it arrive at your home within a matter of hours literally without lifting a finger. Who isn't willing to engage in that level of convenience, I ask you?
Local Search
If you've heard technology is making the world more hyper-localized, then you are right. With over 3 of every 4 people using a smartphone every day, search has to be hyper-localized down to the foot.
Google learned this long ago when it began to amass the world's most expansive and details map of the earth's terrain and locations. Because of this, today we have the ability to stand nearly anywhere in the world and within minutes discover things about our surroundings we never would have otherwise known.
This has been a shot in the arm for those businesses that stay ahead of their competitors' local search optimization through listings, reviews, and maps.
Listings – Utilizing platforms like Yext will simultaneously put your business on dozens of local listing sites to ensure the people who want to find you can. Once thought to be a devolving practice, it is still very much a crucial element of local search.
Maps – Make sure you are utilizing every aspect available in Google Maps and local results. Check your information frequently and make sure everything is perfectly up-to-date. Something as little as an incorrectly listed closing time can turn off a customer for good.
Reviews – How many times have you heard a friend poo-poo a restaurant or hotel because the reviews were poor? Stay on top of your reviews, and always shamelessly share them on your local channels. Implement review schema markup to help get your reviews seen and help with rankings. And always, always respond to negative reviews. This is paramount to letting your customers know you are engaged in the customer experience.
Website Images
It seems kind of unusual to peg images as an emerging vertical when they have been a part of search for a long time. However, the methods by which Google and the other SERPS have evolved their use of images in search result has increased their importance.
Images are now served as portions of quick answers, embedded within organic results, and part of local results from user-generated uploads.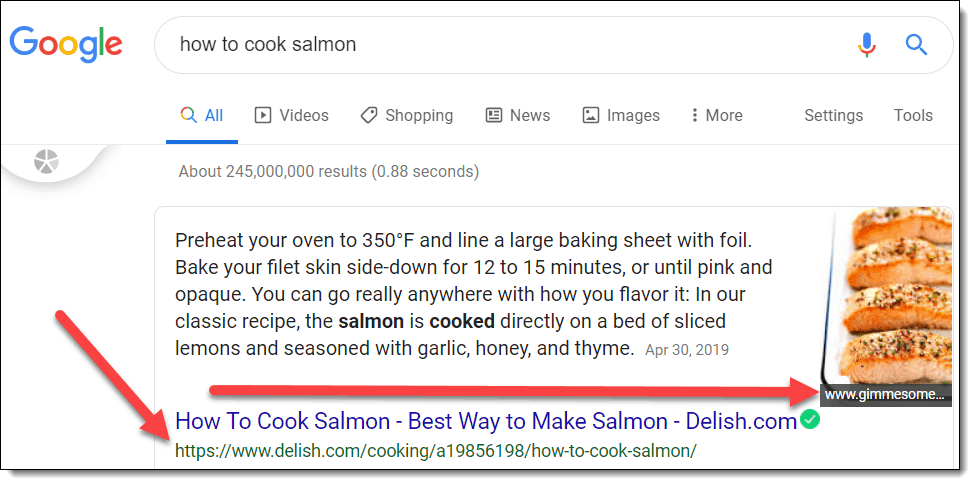 Google Search for "how to cook salmon" reveals a different result for the organic quick answer (delish.com) vs the quick answer image result (gimmesomeoven.com).
Video Optimization & Production
Video killed the stagnant user experience. People love motion and having rich, informative and well-optimized video on your site helps them scratch that itch. Nearly 4 times as many users would rather watch a video than read about it. In the world of online video, there is no more dominating platform than YouTube.
Here are some tips and best practices for producing and optimizing the highest quality videos for YouTube that will not only engage your audience but also hold a CTR rich position in the SERPs.
Production
Devise a concept and a purpose for your video.

What do you want to accomplish?
Who do you want to reach?
Write a script.

The production consideration should have the same level of preparation and vision as a Hype Williams video. Well… maybe not THAT level. But think about things like:

Lighting
Engaging visuals
Sound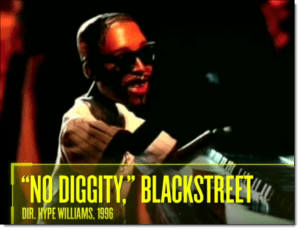 Lil' Penny, anyone?
Create engaging visuals. Back up spoken word with a visual representation of what is being said. Whether it's a chart or a cut to stock footage, this will encourage user engagement and help to deliver your message.
Optimization
As with any SEO focused initiative, select keywords and pepper them throughout the transcript.
Headline (title). The headline of your video is paramount to the optimization process. This will serve as the anchor for your search results both in the SERPs and YouTube's search.
Meta description. The descriptions are intended to support the headline and keywords. This does not need to be lengthy as it will not often be read by the users.
YouTube permits the use of tags with a very expansive range of topics. Only select tags relevant to your video content.
Additional Optimization
Thumbnail image. Select a still image from your video that will cause a user to stop scrolling and click on it.
Subtitles (closed captions). Product your video with these in mind. Its standard for them to appear at the bottom of the screen, so don't include too much visual copy in that area. Its been shown user engagement increases when subtitles are present. Also, consider your user may not be in a place where they can listen to the video, so it might be the only way they can absorb the content.
Call to action. YouTube permits links to your website directly from your video. Use it.
These are essentially in-video pop-ups that you create to highlight a portion of your content or evoke a response from the viewer.
Finally, you should embed your videos into your website on one dedicated page for each. Download the transcripts from YouTube and include them on the page. It's OK to use an accordion tab, but be sure a portion of the copy is visible to avoid any of those Toxins we discussed earlier.
And there you have it. The most up-to-date SEO best practices from the good people at Search Engine Land and BFO. Learn them. Love them. Leverage them and keep improving your SEO to drive your marketing and revenue goals.