GA4's Data Retention Policy: What You Need to Know
October 07, 2022
2 Minute Read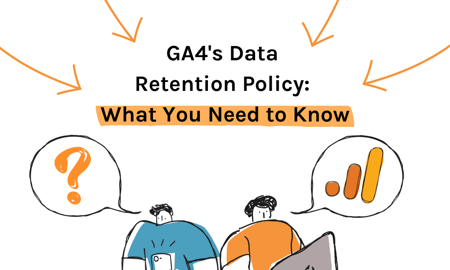 As you are probably aware by now (or should be), Google's Universal Analytics (UA) platform will be retiring next year to make way for their new analytics platform Google Analytics 4 (GA4). There are numerous changes that will be occurring with the transition to the new platform that we have been working to provide you with information on so that you can be prepared. In this article, we are going to cover one of those changes that can have a big impact on how you view your historical data, especially when it comes to Year-over-Year comparisons: data retention.
Google Analytics Data Retention Controls
Data Retention controls in your Google Analytics platforms allow you to set the amount of time that user-level and event-level data is stored before it is automatically deleted from Google's Analytics servers. Data impacted by this retention period includes user-level and event-level data associated with cookies, user-identifiers, advertising identifiers, and Apple's Identifier for Advertisers (IDFA).
In UA, you have the option to retain data for an unlimited amount of time. However, GA4 only provides you with two options: 2 months or 14 months. By default for all GA4 properties (non Analytics 360 version), data retention is set to 2 months when you configure your property.
This data retention setting only impacts Exploration reports (the custom report building feature for GA4). Standard aggregated reports (including primary and secondary dimensions) will not be impacted, even if you create comparisons in these reports. However, Exploration reports are a great way to gain deeper insights about your users and their journey so we would highly recommend updating your Data Retention controls in your GA4 properties to 14 months.
The "Reset on New Activity" Setting in GA4
Additionally, there is a "Reset on new activity" setting. This option resets the retention period of the user identifier with each new event from that user (thus setting the expiration date to current time plus retention period). For example, if data retention is set to 14 months but a user initiates a new session every month, then that user's identifier is refreshed every month and never reaches the 14 month expiry. If the user doesn't initiate a new session before the retention period ends, then that user's data is deleted.
We recommend turning this option on in your GA4 configuration.
How to Change Your Data Retention Controls in GA4
Log into Google Analytics and navigate to the GA4 property you want to check
Go to Admin in the bottom left hand corner (cog icon)
In the PROPERTY column, click Data Settings > Data Retention
Here you will see a category labeled Event data retention and should be able to see what it is currently set to. (We want it set to 14 months)
Below this, you will see a setting labeled Reset user data on new activity. This is a toggle and should be toggled on.
Need Help with GA4?
Transitioning to a new analytics platform can be a difficult process. If your organization is stuck in the move to Google Analytics 4, the Analytics team at Be Found Online can help! We offer a range of data and analytics solutions from audits to ensure your GA4 property is collecting the data you need properly to full-service configuration (even server-side tagging for GA4). Reach out to us today to see how we can help you achieve your data goals.