Social media is an ubiquitous term that can mean many different things. This complexity has birthed a whole industry of social media memes. Social is a platform built by many pillars: pillars like brand relations, community management, PR, and sales. Social campaigns can do more than just drive brand engagement. Because social affects the entire organization, a social team should be integrated into the entire organization. But this begs the questions, where should paid social media live?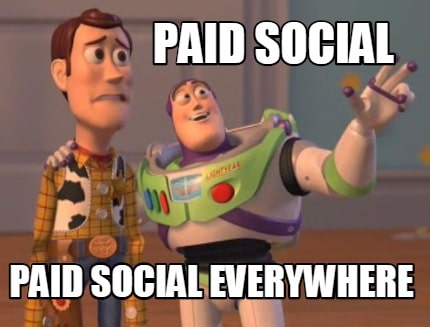 With the use of paid social media marketing strategies on the rise, and organic on the decline, you may be wondering how to handle paid social media campaigns most effectively within your business. Every department wants a piece of social. Social media is public relations. Social media is customer service. Social media is marketing. Social media is retention marketing. So where does paid social media fit in with your company's various teams? Where does it live, and who should be handling it?
Especially in larger organizations, it becomes difficult to draw lines and determine who owns which parts of the company's overall social marketing strategy. Each case is different, depending on whether you have a fully staffed in-house team, you outsource your social media, or you just outsource your paid social media campaigns. There are a lot of factors involved, so it's important to understand who specializes in which areas in order to maximize your business's paid social media efforts.
The Current State of Social Media
One of the biggest trends in social marketing right now is the decrease in organic social reach, coupled with an increase in the prevalence of paid social media. This has been happening for the last few years. Why?
Because social platforms have a lot of eyeballs trained on them and because social sites have raised a lot of capital based on future earnings, they need to make money. And because I don't think anybody's going to be paying for pinterest or instagram or facebook anytime soon, the social platforms need to monetize their audience through advertising.
If you post something to a page that has 1 million followers, 10,000 people are going to see your post if you're lucky. This percentage is much lower than it used to be and is continuing to decline for brands. This is mainly due to the fact that since there is so much content for users, Facebook has started to prioritize relevant content based on thousands of different factors for each user. Instead of showing real-time content that would include something like 1,500 stories for the average user, this narrows the content down to roughly 300 stories.
In the past, paid social media was focused on the right rail ads. Now, it's shifting to a focus in News Feed ads. It's where the volume is, and it's what works best for the growing mobile audience. So should you have a community manager handle these paid social media ads for your business, or should they live with the digital media buying team?
Giving Your Paid Social Media Strategy a Home – The Case for the Digital Media Team
Media buying teams understand auction-based marketplaces, and how to optimize and track media. If a community manager focused on content, they may not have time to stay up-to-date in all of the tools necessary to track and manage paid social media.
Understanding attribution from paid social media is essential. Generally speaking, paid social media is at the top of the attribution funnel, and you begin to see the results coming in toward the bottom of the funnel as branded paid search traffic or direct traffic. You have to make sure you have tools in place so that you know what's working in order to adjust accordingly.
Content should live with the social team. Just keep in mind that the content has to work with optimized ads as well. Social teams are great at creating content geared toward their brand and people who are already familiar with the company. Paid social media ads, however, should have content that appeals to new audiences.
In a perfect world, community managers and digital media buying teams would work together to create great content founded in research and analysis.
Digital media buying teams are experts in data and are likely going to be much stronger in setting up a paid social media campaign than a community manager would be. A lot of times, people with the aptitude for putting out great social content don't have the analytical minds that are needed to buy traffic to see that great content. Make sure you are asking yourself questions along the way to ensure you have the right people doing the work best suited for them.
It's also important to keep in mind that you have to balance your goals when it comes to your paid social media strategy. If your brand is focused on direct-response, such as a retail brand, that doesn't mean 100% of what you boost should be direct-response. Try to find a balance between publishing good content that your audience will find interesting and promoting content that has more specific CTA.
Considering an Outside Agency
Outside agencies can add a lot of value to your social campaigns, with the right kind of two-way communication. Fully outsourced community management teams can be extremely beneficial, especially when an organization is under-staffed or under-funded in this department.
Oftentimes, agencies have a better understanding of how to drive monetary results, not just brand recognition and engagement. The community manager might be able to represent the brand with a stronger voice than an agency could, but their expertise is not the analysis of data that's necessary to get the content seen. An agency can help with that.
Check out The Dan & Steve Show where we discuss the ownership of social in more detail!