Local Search: The Jekyll & Hyde of Digital Marketing
July 06, 2020
5 Minute Read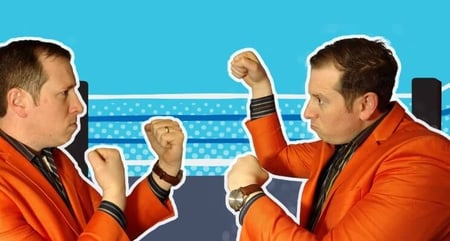 Local search remains one of the most important marketing tools for retail businesses. Except local search isn't marketing. Nuts, there I go again.You see, when I talk about local search I believe it both is and isn't a "marketing" tactic. Here's the deal…
The increase in "near me" searches and mobile device searches makes local search a critical part of every business' search marketing strategy. It doesn't matter whether you're a local retailer or a national brand. If you have a front door and want it to open, you need to have an active local search marketing strategy. But…
Local search is way too important to consider it a marketing expense! It really ought to be viewed the same way as the spend for a lease, product and for staff. It's way too important to get dropped into the media and advertising spend bucket. Those spends can get de-prioritized! Though local search often gets billed as a monthly marketing expense, it operates in the digital space where the lights of your business never get turned off…
Seriously, when it comes to local search, I go back-and–forth on whether it is or isn't marketing. It feels a little Dr. Jekyll/Mr. Hyde sometimes. Let's break down why it isn't, why it is and a couple ways to guarantee local search success.
Why Local Search isn't Marketing
It's time to shift how brands think about local search and business presence management. You spend $10,000 per month on a business lease to ensure your business has a front door. Shouldn't you spend $100 a month making sure your customers can find that door and know when it is open? Local search isn't about driving website traffic. It often doesn't even drive significant online behavior or actions. The search itself shouldn't be expected to create an immediate measurable sale.
We've found most of the time, consumers who do a local search don't want to find a website. They want to find an address. They want to walk on over to the store, walk in, look around and then buy something.
That's why the listing management of local search is so important. Customers want to know your business hours. They may even just want your phone number to give you a call. This is not another "media" platform measured by clicks.
Local Search needs to be measured by visibility, accuracy and sentiment to consider the reputation impacts of local reviews.
Many marketing channels and tactics could be considered a "nice to have". Local search is a "have to have". It's a cost of doing business. And given the complexity and rapid evolution of local platforms and data sources, it's a channel that needs to be actively managed, audited and measured. This channel is too critical to "set it and forget it".
Why Local Search is Marketing
Even when you lock your door at the end of the day, your business and brand stay open online. Your business doesn't just live in your storefront or website any more.
Your brand lives everywhere your customers are, at noon or at midnight. This is a very scary proposition for marketers because your brand no longer lives in owned and controlled platforms.
To stay active and in front of customers, you need to configure and manage a complex ecosystem of platforms and profiles. Add in the complexity of multi-location businesses and hundreds of platforms and the numbers quickly add up to thousands upon thousands of profiles, listings and review sites where your customers experience your brand.
Local search IS marketing because each of these profiles represents your brand, your message, and your value proposition. In these areas, you can post menus, pictures, promotions (ads), links to your social, images and CTAs (click here!). Each of these offers you an opportunity to overlay the information you supply with marketing messages and your brand story. This story needs to be managed, measured and executed consistently across thousands of places.
Local search has become integrated into brand management everywhere it appears online. That includes the need to monitor everything that's said about your brand. (I don't need to tell you negative reviews are killers!)
You need active location management, business profile management, and location-based content management. For the best results, your marketing messages must remain consistent and up-to-date through each of these platforms. The online and digital nature of each of these makes data available for analysis that keeps you in tune with your customers. This has the effect of increasing the reach of all your marketing efforts.
Two Ways to Guarantee Local Search Success
Local search requires brand management and consistency through your local listings and online presence – in all locations! While that makes it a part of your marketing, the role it plays in how customers find and interact with your business make it just as important as your storefront.
At BFO, we recommend two ways to guarantee success with your local search:
First, treat it like marketing. Keep your messages and brand image consistently updated on all platforms. And analyze, track and review search results and metrics all the time.
Next, don't fund it against marketing. Look at it as another essential operating expense. And understand the metrics you're tracking aren't the same as you would for marketing.
Now for the pitch… Local Search and Business Presence Management is a core service offering at BFO. But this isn't a pitch for BFO specifically, this is a call to arms for Marketers to prioritize and elevate the importance of a holistic ongoing business presence management strategy for their businesses.
We manage and update the information to keep your brand active and dynamic with your customers. This way when they search for you they can find you, on any platform, at any time.
Questions what we might do for you? Send us a message or give us a call.