BFO Ranked #1 on Ad Age's Best Places to Work 2016 List
November 14, 2016
3 Minute Read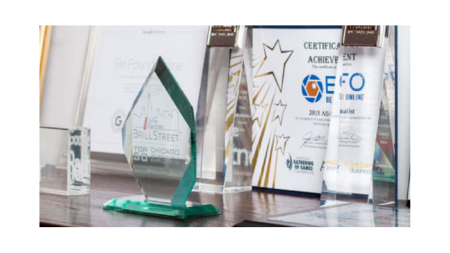 Ad Age has released its 2016 list of Best Places to Work. We're happy to announce BFO ranks #1! We're thrilled and humbled. The recognition is awesome because it means we've created a great environment for our employees, and that's something to be truly proud of. Plus, we know that translates into great results for our clients.
Who Makes the List?
Ad Age reviews surveys submitted by hundreds of agency, ad-tech and media companies with forty or more employees. As Ad Age notes, "Great cultures can take root anywhere." Companies considered for this honor come from big and small cities from all over the United States.
The Ad Age Methodology
To determine ranking, Ad Age reviews thousands of surveys from employers and employees. The employee survey accounts for 60% of the score. It gets employee feedback on career development opportunities, work environment and total rewards. The employer survey makes up the remaining 40%. It covers company compensation, diversity, work-life balance, benefits and special perks offered by the employer.
With this information, Ad Age creates a list of the Top 50 companies. They go a little further and determine their "Cream of the Crop", the companies that rank in the top 10% of all participants. In 2015, 37 of Ad Age's Top 50 companies earned that designation.
It's Been An Award-winning 2016!
Steve Krull (CEO) and Dan Golden (President) have led BFO with a vision to be more than a great digital marketing agency. They determined BFO would also be a great place to work. BFO set out to achieve this in multiple ways, with one of the major initiatives being open book management. which is based on a philosophy from the Great Game of Business.
Since implementing this strategy, BFO has enjoyed incredible growth and one of the highest employee retention rates in the industry. BFO's growth earned them recognition as an INC5000 Fastest Growing Company for a 5th straight year! Beyond growth, the successful implementation of the GGOB strategy earned BFO recognition as a Great Game of Business All-star for 2016.
BFO has also qualified as a finalist for U.S. Search Award Shortlists in the areas of Best Use of Search – Retail, Best Large PPC Agency and Best Large SEO Agency. At BFO, we know success like this comes from highly motivated employees committed to delivering the best agency experience to our clients.
Great Companies Start with Great Employees
Beyond the business elements, BFO encourages its employees to get involved in their communities. BFO employees enjoy opportunities like Volunteer Time Off, time an employee can take to get involved in their community through charitable work or other causes close to their heart. In 2016, BFO even offered Voting Time Off where the company closed to allow its staff to get civically involved with the election beyond simply voting.
BFO also offers many additional fun perks. Employees can bring their dogs into the office. During summer-time, we get half-day Fridays and access to Cubs seasons tickets. Plus, employees have the opportunity to advance their careers, knowledge and skills through training and support from the company's dedicated education budget.
At BFO, we encourage employees to be excellent at the office, in their families and in their communities.
What We'll Do with This #1 Rank as an Ad Age Best Place to Work
We will keep living and working as the caring community we are. We like to come to work and really care for each other which has contributed to our success.
Next, we will continue to deliver one of the greatest agency experiences for brands here in Chicago and around the world through our offices in London and Singapore. To learn more about any of our business strategies or agency services, reach out, we love to meet new people. Let's start a conversation.
And if you want to join our family, you can always apply here.