If you've ever wanted your ads to display higher than your competitor's in search results, Google finally has the answer. Target outranking share is an emerging flexible bid strategy that automatically sets bids so you can outrank the ads of a competing domain. It's a great way to increase your visibility in the search space.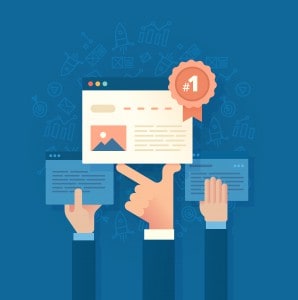 How Google Ads Target Outranking Share Works
Target outranking does not improve your ad rank in the overall search engine results. It does, however, help your ad display higher than the ad of another domain of your choosing—such as a competitor who often bids in the same auctions as you do. In other words, this bidding strategy increases your ad's search visibility compared to the competing domain.
So how does it work? If you choose to use target outranking share, AdWords will automatically raise (or lower) your bids so that your ads outrank the other domain's.
Getting Started with Google's Target Outranking Share Bid Strategy
Step 1: To enable target outranking share, go to the AdWords Shared Library. Click the Bid Strategies tab, select +Bid Strategy, and choose Target Outranking Share from the drop-down menu.
Step 2: Choose your strategy settings. Select one domain for each of your bid strategies (if you wish to outrank different competitors in each of your campaigns). Enter your target outranking share percentage for each competitor, and then choose Automatic or Manual mode.
Step 3: Apply your strategy from the Campaigns, Ad Groups, or Keywords tabs in your Shared Library.
Best Practices
While target outranking share sounds straightforward, we have a few tips you should consider when implementing this new bid strategy in your AdWords campaigns:
Utilize your reports—Your Auction Insights Report allows you to browse the domains that regularly compete with your ads in the auctions. Identifying your top bid competitor is vital to getting the most out of the target outranking share strategy. Once your strategy is in place, keeping an eye on the Bid Strategies Report can help you see how you're performing so you can optimize if necessary.
Keep your budget in mind—Target outranking share is a valuable new tool for AdWords users, but it's not for everyone. This strategy only needs to be utilized in select situations, since ROI constraints are often more important than ad ranking targets. However, target outranking share does allow for some budget flexibility. Within AdWords settings, you will have the option to choose the percentage of auctions you want to outrank in. If you select a high target outranking share, you'll need a larger budget to back your campaign.
Be patient— when you initially enable target outranking share, your bids can take up to a day to be updated. Once they are, your new flexible bid strategy may not show results for up to a week. It's advisable to wait 7 days before adjusting your settings further.
Target outranking share can be a valuable addition to many AdWords campaigns. To setup a bid strategy for your business, link up with a qualified Digital Marketing Agency. Use our ebook, Paid Media Agency Research Guide, to help you find the right partner to reach your paid media goals.