The B2B Sales Playbook: Finding Opportunity in Chaos
April 23, 2020
6 Minute Read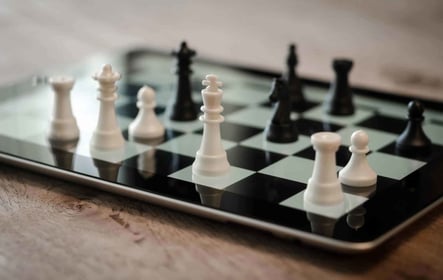 As sales professionals, now is one of the most challenging moments during your career. A master of the face-to-face sales meeting, yet business closures and social distancing is keeping your customers physically away.
It's over. Time to sit back, relax and binge your favorite shows on Netflix.
Or…You can take action now and build your network for the future. Like all things, this too will pass, and by taking action now, you are setting yourself up for success later. A few tips include:
Get your messaging right – empathy is crucial in these times; let your prospect know you understand what they are going through

Get comfortable at home and build your virtual arsenal of tools (like a green screen for video conference)

Master social selling

Get great at scaling outreach on LinkedIn

Don't forget offense: Start planting seeds and stay top-of-mind when business returns to normal operations

Spend time on High-Value Responses such as 1-minute personalized videos to your network on LinkedIn

Schedule virtual coffee meetings
For more information visit our blog on this topic: The Show Must Go On: B2B Sales During COVID-19 and Economic Downturn.
B2B Marketing Professionals
As B2B marketers ourselves, we understand what a sensitive time this can be for everyone. No longer relevant is your 2020 playbook – you know, the one you spent all of Q4 working on to get a jump start on the new year. We hear you – the pain is real.
Now is the time to pivot and establish a new focus for your brand. While many companies are closely watching their finances and are reluctant to make investments in new partners, this does not mean your efforts should stop.
With employees working from home, at any given moment, the whole world is online. Many workers have seen a decrease in the day-to-day activities they are able to perform when in the office, so they are filling that time with research into new products and services they have been putting off for some time. While they may not make the investment today, it is valuable to add these individuals to your pipeline for future marketing and sales conversations.
Become an Invaluable Partner
How many emails have you already received from businesses looking to capitalize on COVID-19? You probably received 10 in the time that you've spent reviewing this playbook. This type of messaging can come off as insensitive or disingenuous. Instead, consider taking this opportunity to provide your audience with free and relevant information. Giving now to get later, is always an effective way to build your database of future prospects. Consider activities like:
Virtual roundtables

Virtual mini-conferences with valuable speakers

Free webinars
Change Your Online Conversion Strategy
Your standard "get a demo" or "speak with an expert" messaging that worked well prior to the coronavirus crisis, may not work as well now as businesses are saving cash to continue to pay employees or to be used to restart the business following the crisis. Continue your marketing efforts, but consider using softer conversion points. A few ideas:
Offer free content (with the submission of an email or phone number of course) that is valuable to your audience

Provide on-demand videos

Offer free playbooks (sound familiar)
All of these conversion points can be used to grow your CRM database using a variety of marketing communication tools:
LinkedIn Ads

LinkedIn 1:1 Reachouts

Google Ads with lead form extensions

Facebook Ads

New content creation, ie., articles

Twitter

Instagram (for brands with Instagram audiences)
Adapt Your Social Media Strategy
The world is at home, which means social media activity is on the rise. Take advantage of this opportunity to have strong conversations with your audience on social channels. Consider the following:
Pause Scheduled Posts

Cancel all scheduled social media posts

News is changing hour by hour; your previously scheduled posts may fall at the wrong time

Another reason to pause previously scheduled posts is typical work hours will be adjusted; with people working from home, the 9-to-5 workday will shift

For example… the impact of children at home re-prioritizes focused work hours for some parents

Post in Real-time

Leverage "scheduled posts" by going into the native channels and scoping out conversation, trending topics and what your audiences are doing

Rely on the social listening tools, skills you've developed and use the insights to inform content

Post natively once you have a chance to tailor a message to fit that moment in time

Think about people being online at different times throughout the day: test posting at various times during the day as new reality has the algorithms and schedule predictors off – they need time to catch up to the new patterns

Prioritize Conversation Over Clicks

New times, new expectations from social media engagements

Use your own channels, like email, to personalize offers and drive conversions

Social media starts with conversations, especially in these uncertain times so retrain expectations to value conversation over clicks

Lean in to what social media does exceptionally well, which is driving conversations, building community, supporting each other, storytelling, and sharing entertainment

Leverage Your Community

Many people have more time on their hands – create an alternative to Netflix binging and offer more educational content that supports curiosity and personal development

Inquiries for joining virtual events and webinars have spiked – take advantage

Put together collaborative content: research your employees, influencers, advocates, and biggest fans

Get in touch and ask them to create with you (not for you)
For additional ideas and information, visit our blog: Unhinged Times: Navigating B2B Marketing During COVID-19 and Economic Recession.