The Show Must Go On: B2B Sales During COVID-19 and Economic Downturn
April 03, 2020
6 Minute Read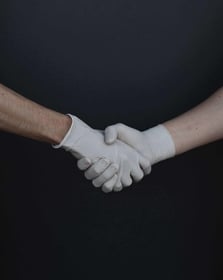 Phew! Because with sales meetings moved online, customer visits postponed, and just about everyone exclusively working from home, it might feel as though sales are on hold for the unforeseeable future.
Not true. We just need to find a new way to sell.
The B2B sales show must go on
It's time to kick comfort aside, ditch the pitch and stop selling the way we have always done it. It's true – people are open to receiving our messages; we just have to get the content right.
The last thing consumers need (or want) is to see another message about how the COVID-19 pandemic has turned the world upside down. Been there, heard that, lived it.
We get it.
Our BFO team has a few words of advice for you and several tips on how to successfully continue selling in this new world we're living in.
Get your messaging right
Now is the time – and we have a whole lot of it – to get creative in connecting with people. If your brand has established guidelines and language for engagement with your customers, our advice is to learn and follow them.
This new normal is a different world – for everyone. People are scared. The best approach is to lead with empathy and connect with your audience on a personal level. With so much uncertainty impacting business decisions, this approach ensures you'll have deeper, more meaningful conversations that will pay off.
If you are lucky enough to have a brand team with established guidelines for communication, embrace them, learn them, practice them… every day. It's not just for your brand you're doing it. You're doing it for your customers, too.
Get your messaging down. Then, get back to work.
Quarantine in comfort
In other words, make yourself comfortable working from home.
You may thrive in—and live for—those in-person, face-to-face meetings. We do, too. For now, though, that isn't the world we live in.
So, you need to get comfortable working from home… and no, that doesn't mean laptop, bed, pajamas, Netflix. You need a workspace that will nurture healthy work from home habits.
If you already have a dedicated home office, you may be good to go, unless you're now dealing with a spouse and children who need to get their work done… in your space.
Either way, you need a dedicated workspace just for you – a space where you can get to work, think outside the box and forget beyond those home office doors, there are kids painting your dog's toenails.
It's the little wins that make for successful work-from-home conditions. Let's say you video conference a lot (and who doesn't these days): A collapsible screen may be exactly what you need. It's your own personal green screen that instantly turns your space into a presentation area. When you're finished, fold it up, store it, and get back to work.
In short, invest in the tools you need to be comfortable with your environment and in yourself to stay productive and professional as you work.
Embrace social selling
Find out where your network and your customers spend their time. As a B2B salesperson, it's LinkedIn. If you aren't a whiz at it yet, take time every day to learn it – fast.
Phone calls don't work as well during a crisis like this. People simply don't want to talk – at least not to someone who cold calls.
Social media offers a more comfortable way to communicate. Plus, it enables you to use your "in-person" network to connect you with people you don't get to see right now because of that whole isolation thing.
When your company does LinkedIn marketing, leverage your personal feed to bring awareness to your company and its services. Those 854 connections you have on LinkedIn – yeah, them – put those connections to work for your company. No W-2 forms involved; what we mean is, share your company's posts on your personal feed, so your company gets some much-deserved content love, and now 854 more people have just learned about your company and what your company can offer them.
But wait! Don't just click share, add your own thoughts to the post and give your 854 connections a reason to engage with that post. Cuz guess what… now their connections—who may know nothing about you or your company—just got a "Vanessa Smith likes this" along with your company's post in their feed. Brand ambassador of the year, anyone?
Note: that LinkedIn content sharing tip only works if you have your post privacy settings to "anyone."
Scale your outreach
In addition to becoming a LinkedIn pro, you'll want to develop a plan for personalized outreach. For maximum productivity, this means you'll want to become a master at scaling your outreach plan.
Scaling doesn't mean sending a generic mass communication. In today's environment, email marketing to the masses gets lost in the ether, closing more doors than it opens.
It's time to determine how to connect with the largest number of contacts via personalized communications. It may be easier than you think. Like you, everyone's at home all day, every day, paying more attention than they have before to their gadgets… Those screen time alerts are showing triple the hours. So yeah, they may just read a personalized communication from you.
To scale, go beyond making LinkedIn connection requests. By all means, keep up with those, but also reach out to your current network for assistance connecting. Set target numbers for your own outreach and the outreach that leverages your current network to connect with new potential customers – go from 854 to 2157 connections! All that post sharing will get your picture on the wall at HQ… you know, when it's safe to go back.
Consider making a game out of it. Give yourself a score for each type of outreach and again for a response. Try to beat your score every day, week, and month. Make it fun!
If you do find an opportunity, don't rush to close it. Trying to force a close isn't realistic right now and will only produce ill will. Be patient. Stay on message. And remember… empathy first.
Stay on offense
Even if sales are slow now, you can plant the seeds for the future. Use your time now to fill your pipeline so it's bursting at the seams.
Using top-notch content, whether it be blog posts, e-books, video, infographics, etc., will ensure you and your company stay top of mind with your customers and social media followers… you know, prospects.
Make your focus right now about building your pool of leads. "that way, when life settles down, you will have the foundation for an even stronger pipeline than where you started"
Invest time on high-value responses
How much time do you spend a month on networking social events? Once you have your answer, ask yourself this follow-up question: Of the people you networked with, how many became real leads?
Imagine what would happen if you invested that time into recording a personalized one-minute video for your LinkedIn network of 2,157 people! Let that sink in…
Share a valuable insight, industry knowledge, or a "feel-good" story that will brighten your network's life with smiles. People want – and need – the feel-goods right now.
While video remains popular, you can also use voicemails on the LinkedIn app to connect. Loom is another tool that offers a free and effective way to record videos you can share.
Virtual happy hour doesn't have to be cocktails
Finding ourselves in an unprecedented quarantine kind of situation doesn't mean we can't have fun. And just because you can't meet in-person with customers or your network, doesn't mean you can't meet over coffee.
So, grab your favorite work-appropriate-cuz-you're-on-video coffee mug, and get your socially acceptable caffeine buzz on during the day, with your network, colleagues, boss… and remember to tell them how cute their dog is – big bonus points!
Mixing a little fun into our current circumstances helps to keep the mind fresh and provides a valuable social outlet. And who knows… that fun, virtual coffee today may become that big sale in the months ahead.