Geofencing Marketing & Advertising: How Does It Work | What is Geofencing | BFO
August 11, 2016
6 Minute Read

Successful geofencing creates meaningful interaction between brand and customer. To work well, this mobile marketing strategy requires more than technology. It also requires precision customer targeting and a genuine, personalized message. Let's take a look at how these three essential elements unite to drive revenue, create new business, and build brand loyalty.
What is Geofencing Marketing?
Geofencing is a location-based marketing strategy that uses geolocation to target a mobile device within a specific geographic location and delivers messages, ads, or notifications of special offers for in-store purchases.
How Geofencing Works?
The mobile marketing strategy of geofencing gives local, multi-channel businesses an opportunity to interact through mobile devices with potential customers who are nearby and ready-to-buy, before they walk through the door. This makes it a powerful way to connect with both new customers looking for your product and current customers in the area.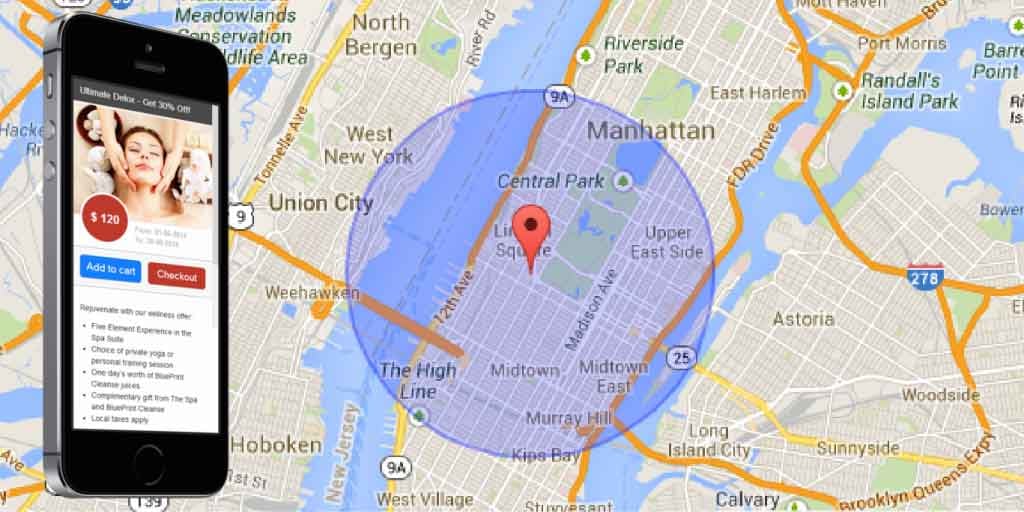 Think of it like expanding the brick'n' mortar walls of the store, shop, or restaurant. Except with geofencing, you can apply digital marketing strategies to target specific customers. You're not standing in your door-way calling to every passerby. With geofencing, you know exactly who to reach out to, not in the way of 'Hey, buy this now,' but as a friend who offers exactly what is needed, when it's needed.
In our experience, geofencing works well and is completely changing the shape of mobile marketing.
Proximity Technologies and Mobile Marketing
Geofencing starts with technology. It uses technologies like iBeacon, GPS, or even IP address ranges to build their "fence". When users with a mobile device enter the specific area and have an App related to the business or key in relevant search terms, they can receive messages, ads, or notifications of special offers for in-store purchases.
The size of the fenced area depends on location. It could be a one-mile radius in a city or walking distance. In rural areas, it could be a much wider area. Regardless, it enables local businesses to offer hyper-local deals.
Location-based Advertising
Due to the highly localized and targeted audience, the strategy produces fewer, but much higher quality clicks for a better ROI and return on ad spend (ROAS).
The successful geofencing strategy relies on meeting customer's where they are. This requires knowing your customer and leveraging the power of 'Near Me' searches. Demographics and psychographics play a vital role here as do search analytics.
A vital element of this strategy requires the customer opt-in and be receptive to receiving the offer. Having an App on a mobile device is one form of opt-in. Paid search and social media ads – where the customer seeks out what you offer are additional ways to connect.
An installed App allows a business to recognize a customer in the area. The user might receive a push notification like an SMS text message or App notification. These messages often encourage the customer to stop by the store while in the area and take advantage of the awesome deal you have for those in the area.
Paid search, or native display ads, appear when users Google (or Bing) search relevant keyword terms within the designated area. These ads don't generate a lot of clicks but they do connect with highly qualified and motivated prospects likely to engage with the ad and visit the brick'n' mortar location.
Social media advertising works in much the same way as display ads. A user active in a social platform and within a "geofence" sees an ad based on their demographic information. Of the social platforms, Twitter and Facebook work very well as many of the active users are mobile.
Personalize Content and Offers
The biggest challenge posed by geofencing ads is to deliver a genuine, personalized message that engages the customer. A generic or "sales-y" sounding ad can "turn-off" a customer and may cause them to avoid clicking to learn more. Or worse, it could motivate someone to uninstall the App!
Ad copy needs to introduce the offer, immediately connect with the customer's need, and urge prompt action. Personalized content that addresses the context of a users immediate need adds value and builds the relationship between consumer and brand. The offer itself should reward the customer for taking the action to make an in-store visit.
Super-Charge Your Geofencing Strategy
It takes technology, ad placement, and engaging ad copy to draw a customer to make an in-store visit. But to take your local engagement to the next level, add in analytics.
Use your data to understand what offers people responded to with an in-store visit. Dig deeper to understand metrics like how often a customer visited a store, how they responded (Did they call or stop in?), and how long they shopped.
The more data you have, the more you can test. This goes for both digital ads and in-store displays. Geofencing gives multi-channel retailers a highly targeted audience to split-test customer engagement at every level and an opportunity to gain a deeper understanding of what their local audience wants most.
Does geofencing sound like a mobile marketing strategy that could benefit your business? Start a conversation with a Digital Agency to get your strategy up and running. Check out our ebook, 'Paid Media Agency Research Guide' to find the right agency to run your geofencing marketing.