Google Universal App Campaigns: Ad Spending Future
July 21, 2015
4 Minute Read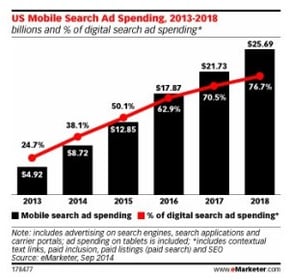 The new campaign type is designed to give developers big scale for minimal work, and integrates within AdWords and Analytics for the metrics your app needs. Let's have a look.
Mobile Search Ad Spending
The Google Universal App Campaign is a new type of campaign designed to give developers and marketers a larger scale to measure while integrating with AdWords and Analytics to measure the metrics your app needs.
Mobile ad spend is here to stay; you're either in the game or you're not. Ad spend is projected to reach over 25 billion by 2018—a more than 50% increase from what is currently being spent in the app ad space. To help make sense of how much to spend, where to spend it, and what metrics to measure, we've outlined a few options below.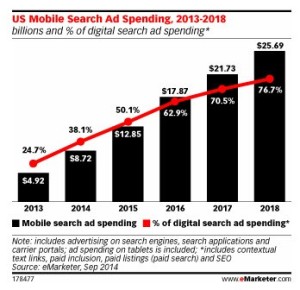 Google Introduced Universal App Campaigns
By integrating within AdWords and Google Analytics, the new universal campaign type is designed to give marketers more precise control over their app advertising and provide a new KPI metric to measure.
The marriage of app data and Google Analytics provides an industry-leading solution for in-app analytics which will benefit advertisers seeking more transparency into ad effectiveness across multiple platforms and ad networks.
"Dubbed Universal App Campaigns because the ads automatically reach across Google Search, mobile app network AdMob, sites in the Mobile Display Network and YouTube on iOS and Android devices and the Google Play store on Android." – Search Engine Land
By setting CPI Targets to determine location and language targets with your budget and bid strategy, you can set it and forget it. Not really, but the Universal campaign does allow you to have a bit of flexibility across the ad networks.
What Mobile Ad Metrics Should I Measure? LTV > CPI vs. CPA
There are many metrics to measure such as installs, uninstalls, play time, engagement time, reviews, and purchases (read more on ASO App Metrics here), but there's much more than just the cost per install. It's the Lifetime Value > Cost Per Install factor, and the big data winner points to cost per action.
Costs per install used to be the defining metric, but now what is more important to track and measure is what people do with your app after they've installed it.
What is Lifetime Value and Why is it Important?
The lifetime value metric works more as a temperature gauge to determine the future worth of a user, instead of their initial install value. This means you have a stronger opportunity to continue to market to the users who have already installed your app for additional engagement.
The Cost per Action Changes the Game
Cost per action is the cost to acquire a user who engages in a high value, revenue-producing post-install event. While different apps target specialty audiences, each one has a focus of what they want the user to do once they've installed it.
Techzone featured a detailed article about the value of the cost per install and the different types of CPAs depending on the target audience. Dating apps focus on monthly fee events, as opposed to social sharing apps which target an entirely different market.
Understanding the different kinds of metrics to target in your Universal Campaign can greatly increase the informed data to help drive future decisions on attribution modeling.
The Google Analytics blog describes it this way: the Universal Campaign helps to streamline these metrics and find what is most useful for your app.
With a single campaign, you can scale your reach across Google Search, the AdMob network, mobile sites, YouTube and Google Play. Just provide us with a few inputs about your app — what your ad creative will say, the audience you wish to reach, and how much you want to spend — we'll do the rest for you.
Behind the scenes, our ad creation and bidding engines will help maximize performance for your campaigns so you can spend more time building and enhancing your apps. Find out more, here.