Quick! What Do I Need to Know About Google Analytics 4?
June 20, 2022
6 Minute Read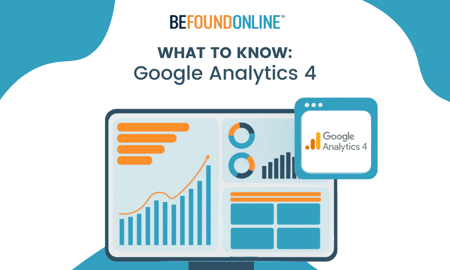 Millions of businesses around the world rely on Google's analytics services to measure the performance of their online presence. It's no surprise, then, that Google's announcement that it's officially sunsetting Universal Analytics (UA) in favor of the internet conglomerate's newest iteration, Google Analytics 4 (GA4), has marketing leaders concerned. What does this transition mean for data collection? What do I need to do to prepare for GA4? Fear not — we have the answers you've been looking for.
What Is Google Analytics 4?
Let's start with the basics. Google Analytics 4 — previously called "App + Web" — is the next generation of Google Analytics. Originally released in late 2019, GA4 is an entirely new property, designed for modern businesses and consumers. By incorporating Google's state-of-the-art machine learning technology and a brand new events-based model, GA4 provides a more comprehensive view of the user journey by tracking a company's website and app within the same property. The result is more detailed data and insights from the same provider you know and trust.
How Is Google Analytics 4 Different from Universal Analytics?
In addition to a new name and new user interface, the bulk of GA4's improvements are largely behind the scenes, meaning you'll mainly see differences within the type of data you have access to. The good news? Google Analytics 4 was designed with marketers in mind, making it a dream solution for data-driven teams looking to better quantify their efforts and understand their customers. Below, we break down some of the most important differences between Google Analytics 4 vs Universal Analytics.
Data Privacy Is a Priority
Perhaps one of the biggest improvements to GA4 is the focus on data privacy. With monumental legislation like the California Consumer Privacy Act (CCPA) and the General Data Protection Regulation (GDPR) in place to protect consumers in California and the E.U. respectively, an analytics provider that can navigate this ever-changing landscape is imperative.
In light of that, GA4 will do away with IP address storage. Additionally, GA4 offers country-level privacy controls, so you can manage data collection across the globe in accordance with international data privacy regulations without compromising measurement functionality.
While these changes are absolutely a step in the right direction, BFO recommends companies consult their legal team to ensure they are following all privacy laws necessary for their region. That means setting up a cookie privacy policy on your website, and ensuring the copy and tracking are up to code based on your location's requirements.
GA4 Is All About Events
UA has relied predominantly on cookies to capture user information and data, a method which becomes more challenging with increased data regulations. With the release of GA4, Google has introduced a new tracking model that focuses on events.
UA supports event tracking today, but not without additional work, as it typically requires custom Analytics code or a gtag.js script. With Google Analytics 4, marketers will be able to edit event details directly within the GA4 UI- although this process can still be fairly complicated and technical.Google Analytics 4 also provides "recommended events." These are not automatically tracked, rather suggested for implementation based on known verticals and/or behaviors. For example, GA4 may suggest "add to cart" as a recommended event for e-commerce businesses.
Cross-Domain Tracking Is Possible
Unlike Universal Analytics, GA4 was built for agile businesses and users. Google recognized that many of their GA customers advanced their websites to include things like profiles, which often require the user to log in on a separate domain. While profiles were great for the user so their information could be saved for easier checkout, this posed a big challenge for tracking. UA wasn't smart enough to recognize that when a user left the website to perform another action, say log in to their profile on another domain, and then came back to the main domain that this was indeed the same user. Hence, complex cross-domain tracking implementations became necessary, usually through Google Tag Manager, so GA would see that user as the same person throughout their navigation to a new domain.
This all changes with the release of GA4, which has cross-domain tracking built in as an option setting for marketers to easily configure. Now, GA4 allows you to define which domains your users might bounce between that are all part of the same user journey. The result is continuous tracking from start to finish, as opposed to multiple sessions being logged from the same user during their one visit to the site.
New Attribution Model
GA4 will give credit where credit is due. New leads and closed-won deals won't just be evaluated on a last-touch attribution model, as is the case with Universal Analytics. Rather, GA4's default setting is the Data-Driven attribution model which considers all influencing touch points— such as marketing campaigns, email nurture tracks, webinars, and more — to be counted towards conversion success. GA4 also incorporated a new feature that gives its customers the flexibility to change their attribution model as long as they have the proper property access level.
Furthermore, GA4 recognizes it's important to analyze conversion paths through different attribution models so Google built an easy attribution model comparison report into the tool itself! (Can you tell we're excited for this change?!)
What Else Is New in Google Analytics 4?
A massive improvement to Google Analytics 4 is the addition of machine learning. With this new feature, GA4 supports improved predictive insights, filling gaps within user data to create a more complete picture of the people interacting with your site.
Additionally, Google Analytics 4's machine learning offers smart insights. By continuously analyzing your data, GA4 can identify trends among your customer base and offer suggestions for how to capitalize.
What Are the Big Advantages of GA4?
In short, the biggest advances of Google Analytics 4 can be summarized as follows:
Machine learning for smart insights and trend predictions
Easier event-based tracking
Lifecycle attribution modeling
Improved data-privacy compliance
Comprehensive cross-domain tracking
Why Do User Counts Not Match?
As you transition to Google Analytics 4, you may start to notice some differences within your user counts between GA4 and Universal Analytics. Don't worry — that's perfectly normal. Google has pointed to these differences between the two properties as the five possible causes for the discrepancies in user counts between GA and UA:
You are using different user-identification methods for each property. For example, Google Analytics 4 may be using User-ID while UA is using Client ID.
You are using different user metrics for each property, such as active users and total users.
GA4 is reporting on all data streams (as is the default). Universal Analytics requires that you add individual data streams through filters.
You are using filters in Universal Analytics. (GA4 filters are vastly different from UA.)
You are using different margins of error to count users between the two properties.
What Does This Mean for Google Analytics Customers?
The release of Google Analytics 4 means different things for different customers. For Universal Analytics — the free version of GA — customers, UA will continue to collect data until July 1, 2023 but we recommend setting up a GA4 property stat for YoY data. However, Google has mentioned it may begin to cut UA soon after it stops collecting data in the UA property- as six months after data collection stops. This means you not only need to have a GA4 property set up by July of next year, but you need to have your UA data migrated elsewhere by January 1st, 2024.
360 Universal Analytics — the premium version of GA — customers will have until October 1, 2023 to make the transition. After that time, customers will have access to their UA360 data source until March of 2024.
Drop us a message here and we'll be happy to take some time to tell you all about how BFO can help make sense of these upcoming Google Analytics changes.