Why You Need a Strong Digital Marketing Strategy in 2022 - BFO
January 14, 2022
6 Minute Read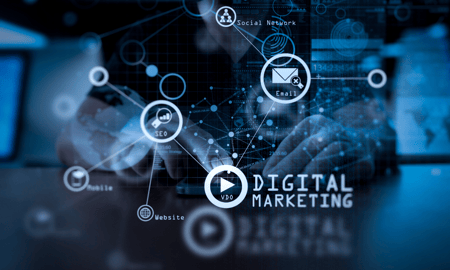 Digital marketing is more important today than ever. Considering that the world is rapidly moving online, businesses need to find a way to connect with their online customers. That's where digital marketing comes to play.
Through it, businesses can connect with customers on social media, email, SEO, and PPC. Not only is digital marketing less expensive, but it helps you reach a wide audience who're using their mobile phones. It is also flexible as it offers a range of ways to market yourself and you can easily track your progress.
Companies can use digital marketing to increase their revenue, attract more customers, and expand their reach. Digital marketing generally has a high return on Investment. The leading channels with the highest ROI are Pay Per Click, which returns an average of $2 for every one dollar spent. Email marketing also gives an ROI of $42 for every dollar spent.
Blogging, social media marketing, content marketing, and search engines also have a high return on investment.
Table of Contents
Challenges of Digital Marketing in 2022

Learning about your customers
Generating qualified leads
Complying with data sharing and privacy regulations
Making websites accessible

Digital Marketing Trends to Look for in 2022

Multichannel marketing for connected digital experiences
Transition to mobile first marketing
Leveraging AI in Digital Marketing
Story Telling as a Sales Tool
Responsible Consumerism
Challenges of Digital Marketing in 2022
Although digital marketing has a high return on investment, it's not without flaws. When the Covid-19 pandemic started, many brick-and-mortar businesses were forced to shut down. As such, most of them regrouped and moved online. This thus led to stiff competition among the existing and new digital marketers.
So, in 2022, digital marketing will still have various challenges that marketers need to overcome. These include those listed below.
Learning about Your Customers
No matter how good your strategy is, if your campaign doesn't reach the right audience, you'll be wasting your resources and money. Therefore, you need to invest in researching the right keywords and writing great content for your audience.A buyer persona can help you target the right audience, as you can visualize your customer and understand them better. You can also do a poll on social media to learn about your target audience.
Generating Qualified Leads
All businesses depend on quality leads to thrive. The 2022 market will be very competitive as most businesses will put effort into gaining targeted leads. Therefore, the prices of Facebook and Google Ads are expected to rise.
Hence marketers will need to learn how to use less costly strategies for generating leads, like video marketing. With stiff competition in lead generation, customers will expect you to prove the value of your product before they can purchase.
Complying with Data Sharing and Privacy Regulations
Privacy and security rules are not going to change. We can expect them to be stricter. Since your website can attract people from various locations, you need to comply with the laws of the areas where your target audience is.
Also, ensure that your website's cookies, privacy, and data sharing policies are transparent. Be clear on how you store customers' data.
Making Websites Accessible
Accessibility is another area of concern for many website owners and users. Your website needs to cater to everyone's needs, including those with hearing, visual, and other impairments.
That means marketers will need to take time to design an accessible site. For instance, when posting an image, ensure that it has alt text to cater to the visually impaired. Doing that also improves your SEO.
Another consideration is to allow accessibility via a keyboard only. Note that all individuals can't use or access a mouse. So, cater to this group by allowing keyboard control.
Digital Marketing Trends to Look for in 2022
2021 was a more stable year compared to 2020 when looking at digital marketing engagement for most organizations. While there could still be surprises in 2022, these five digital marketing trends are expected to be of great importance in the industry this year.
1. Multichannel Marketing for Connected Digital Experiences
Also called omnichannel marketing, this marketing style involves using different digital channels to market your business under one cohesive strategy. Multichannel marketing requires you to create a strategy based off your target audience's preferred method of interaction, and to spend money in channels that support leading them down the funnel to their final conversion. For instance, you may have a target audience that is highly engaged with social media, so you rely on this channel for first contact. However, you can use email marketing, a strong content marketing, and targeted paid ads to reconnect with them and build a relationship.
Businesses need to be vigilant in multichannel marketing in 2022. Remember that your target audiences use different platforms. Ensure that you reach and engage with them where they are. You'll need to identify your target audience's main channels then develop a 2022 digital marketing strategy for all those channels. Make sure you have proper data and analytics tracking set up so that you can measure your audiences engagement across different channels.
2. Transition to Mobile-First Marketing
Billions of people are using smartphones on a day-to-day basis. Therefore, mobile devices are essential in a person's purchasing cycle. As such, mobile marketing isn't anything that is going to end soon.
Businesses, therefore, need to up their mobile marketing game by ensuring that their website is responsive, and they accept mobile payments. Additionally, it makes the customers love the experience of having a reason to come back.
3. Leveraging AI in Digital Marketing
AI is transforming the world, and digital marketing isn't being left behind. In 2022, we expect businesses to combine AI with other digital marketing strategies for more efficiency and better success rates. AI will optimize a business's organic search and automate the marketing processes. As such, it will simplify things for marketers. Be on the lookout for tools that can streamline and improve your user experience while providing you valuable data.
4. Story Telling as a Sales Tool
Sure, getting people to subscribe to your product is huge progress. However, it's not enough, especially if you're in the B2B marketing scene. This is where storytelling comes in. Using this technique, marketers will sell their products softly and build a more engaged relationship with their audience.
Your brand will have a chance to tell the solutions to the problem a client has through telling its story instead of selling it. Storytelling will not end anytime soon since more case studies are being reported about brands implementing a product successfully through it. People love people, and they are craving that connection more than ever, so look for ways that your business's unique story can help to bring potential customers into the fold.
5. Responsible Consumerism
Now more than ever, customers are more concerned about their consumption habits. Individuals these days want to create a positive impact on the environment and society from the goods and services they purchase.
Most companies are already facilitating this. For instance, some enterprises design products that are environmentally friendly and can be recycled or reused. As long as individuals are shifting towards being responsible consumers, this trend will not stop anytime soon. Therefore, companies must plan and prepare for it if they haven't started already.
Conclusion
Having a 2022 digital marketing strategy is vital as it will help you know what aspects make your business unique and how to connect with customers in a way that builds long-term relationships.If you need help creating an effective digital marketing strategy, Be Found Online is here for you. We will help you design a strategy that works for your company's goals and needs. Contact us today for more information.