What Analytics Are Important in Marketing?
August 26, 2022
5 Minute Read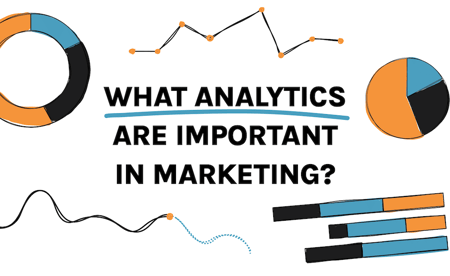 Analytics in marketing are aimed at analyzing data to determine how well a marketing effort is performing. This data can provide impactful marketing-related details; your organization can comprehend what motivates consumer behavior, improve your marketing campaigns, and maximize your return on investment. Thus, digital analytics are crucial tools for any company looking to enhance customer experience and boost revenue.
In the current business environment, digital marketing tools have radically transformed the customer experience. So we decided to cover a few areas of marketing analytics that pack a big punch. This is an introduction, so if you're already a marketing analytics savant, we recommend perusing Be Found Online's Digital Marketing Blog for something that is a little more your speed. To all the marketing analytics newbies out there, welcome.
Overview of Marketing Analytics
Marketing analytics use data to assess the effectiveness and success of marketing performance. By incorporating analysis of this data into your business plan, you may gain a deeper understanding of your customers, maximize your marketing objectives, and increase your return on investment.
Marketing analytics generates business metrics like:
Churn rate
Client satisfaction
Segmented profitability based on demographic
Public views
Client lifetime value
These indicators are crucial because they enable you to assess the efficacy of the marketing initiatives undertaken by your company. For instance, to demonstrate the causal connection between marketing strategies and real sales, performance metrics might be evaluated in conjunction with other data, such as demographic trends or client lifetime value.
With the use of these Key metrics, stakeholders may get an overall understanding of all marketing channels, including email marketing, social media, and pay-per-click (PPC). They aid in delving deeper into more specific marketing trends and clarifying the big picture.
Lead Generation Analytics
Lead generation is the process of attracting potential clients and turning them into leads that show an interest in your goods or services. With the help of analytics, you gain insights into the data behind your lead generation initiatives that can tell you when you're successful, if you're targeting the right audience, what marketing channels are most effective for building your connection, and ensure that you are developing the right objectives for your campaign.
To obtain the maximum ROI, lead generation analytics attempt to improve both the quantity and quality of your leads. Also, it assists you in selecting the appropriate channels and platforms based on your intended audience. For instance, it wouldn't be sensible to concentrate your efforts on social media platforms with younger demographics if your target audience is people in their 50s to 60s.
User Behavior Analytics
User behavior analytics involves collecting and analyzing data to reveal how your users engage with your website. You can observe user behavior through tracking events or examining session recordings to assess user activity. It has also made it easier for you to find the underlying causes of changes in your general behavioral indicators, such as retention and conversion rate.
For instance, if you want to examine user behavior on your website or app, you will concentrate on learning about the primary problems your users encounter and the areas in which your design succeeds. You can also use the data you have gathered from analytics to assess the types of campaigns to create, and the types of advertisements that will resonate with your target audience the most. It will assist you in determining insights like if video or email marketing is best for your customers.
Predictive Analytics Marketing
Predictive analytics aims to provide a solution to the query of potential future events. Businesses can use it to locate and take advantage of patterns in data to identify potential risks and opportunities. By using predictive analytics, you can create models to find connections between distinct behavior aspects. Such a model aids in evaluating potential risks or possibilities presented by a specific set of conditions, assisting in marketing campaign decision-making.
You can apply predictive analytics in marketing to anticipate sales trends at various times of the year. Historical behavioral information can also help you forecast the lead's probability of decreasing purchasing awareness. For instance, a single regression model can help determine the likelihood of converting your leads to customers.
Trends In Data Analytics
Data now plays a significant role in the majority of company decision-making processes. These are the top 5 trends in data analytics, according to Forbes:
Automation: It helps analytics to focus on the high-value-add activities, which drives the top-line growth in the manufacturing, retail, and financial industry.
Customer experience: Users desire easy-to-use analytics solutions that are entertaining to interact with.
Analytics as mission-critical: It is becoming the basis of corporate operations. Businesses must therefore invest in education and creating communities that promote data culture.
Democratization: There is easy-to-use analytics, enabling every user to analyze data independently.
Development of a unified platform: Data analytics works on providing users with a flawless experience and lower total cost of ownership.
Marketing Analytics Strategy
The current marketing landscape emphasizes the significance of an organization making good use of accurate data and analytics tools. Therefore, analytics is a key that unlocks the door to marketing success. And for a business to make the most of this information, they have to address the data integration issues and the knowledge gap. They must comprehend the significance of data analytics, establish useful KPIs (Key Performance Indicators), create an intuitive marketing dashboard, and stay up to date on new data and privacy laws that are continuously changing (hint: this is where having an expert is useful).
Our Favorite Analytics Platform: Google Analytics
Finding the right analytics platform for your business is crucial to understanding the effectiveness of your marketing initiatives, and with a price tag of free ninety-nine Google Analytics is a smart move for most businesses. In essence, it allows you to assess certain initiatives' outcomes in real-time and compare them to earlier times. With Google Analytics, you will have all your data in one place, making it simple to compare the different channels, campaigns, and user demographics.
You can track and make data-driven improvements for Organic Search, Social Media, and Paid Search (among others) with Google Analytics. You are even able to set up custom events to track with Google Analytics, so you can see how well that CTA button is really working.According to Google reports, all standard Universal Analytics features will halt processing new hits on July 1, 2023 to make way for their newest platform, Google Analytics 4, which will be designed with privacy as its main focus. It will aim to help businesses meet changing customer demands and expectations. It will provide precise controls on the gathering and use of data. More crucially, IP addresses won't be stored. Additionally, all users have access to video plays, which improves marketing camp performance. If you're interested in learning more about the transition to GA4, check out our blog titled "Quick! What Do I Need to Know About Google Analytics 4?".
Get The Right Analytics Solution
Understanding what type of marketing analytics will be most valuable for your organization's goal is crucial to achieving success. It all begins by getting to know your targeted audience and where they are engaging, then using data-driven strategies to fine tune campaigns to meet your goals. But let's be honest, working with the right team makes all the difference.
At Be Found Online, we have you covered in the analytics department. Our Analytics team is equipped to help you with a full range of solutions; from setting up and understanding your website's analytics to navigating the complexities of audience targeting. Our strategies are created with your unique goals in mind while keeping up with expanding data analytics trends. Contact us to discover how to elevate your marketing campaign.